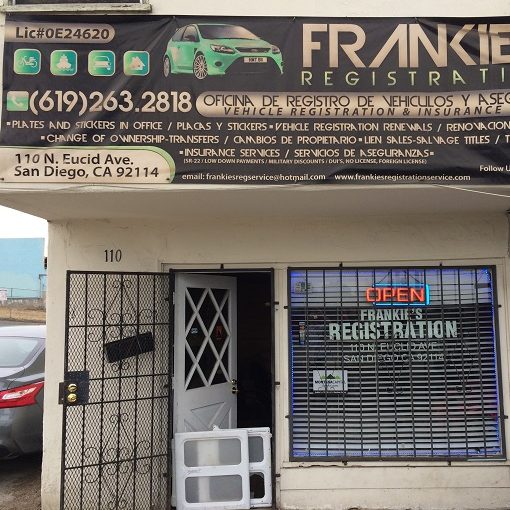 What Our Clients Say
Jesse Valenzuela
00:49 16 Apr 19
Angie went above and beyond to help me!She was patient and knowledgeable and held my hand all the way through it. CANT THANK HER ENOUGH!5stars⭐️⭐️⭐️⭐️⭐️
Patricia Coleman
01:02 13 Apr 19
The process was exceedingly easy and convenient and the service was stellar. This is a no-hassle way to get a title loan. Really couldn't have asked for more attentive and efficient service from the person who helped me (Angelica.)
Eddie Riemer
23:25 12 Apr 19
Esta conentarios para Maura muy Buena persona amable y responde mis preguntas todo el personal de habla hispana de Montana capital
Miguel Rivera
23:20 25 Apr 18

Available for all credit types 

Keep driving your car

No hidden fees
Frankie's Registration provides registration services for Montana Capital Car Title Loans customers. The store is located at 110 Euclid Ave, near the intersection with Imperial Ave. If you live in San Diego and in need of registration services, stop by Frankie's Registration that works with Montana Capital Car Title Loans in San Diego. Frankie's Registration provides our clients with unmatched customer service. Montana Capital Car Title Loans does not issue loans at this location.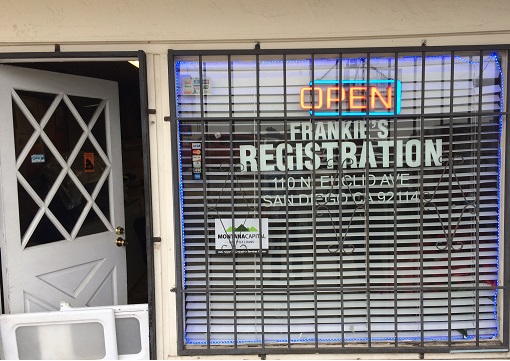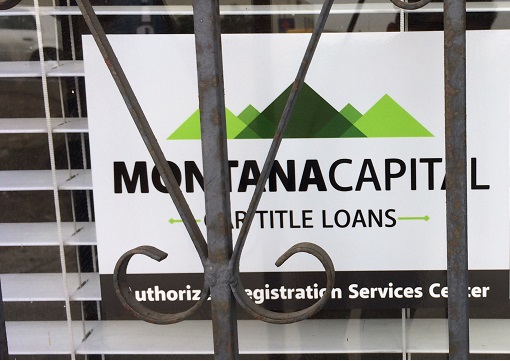 San Diego - America's Finest City

There's a lot to love about San Diego, beginning with it's interesting and varied skyline. One of the favorite sites that visitors enjoy is the Coronado Bridge. Its 5 lanes of rugged metal gracefully runs above the San Diego Bay. There are 32 spans in all with the longest section being 660 feet long. In total the bridge spans 2.1 miles at a height of 200 feet above the water. Before the bridge was constructed in 1967, the only way to cross the bay was by ferry. It serves as a link between San Diego and Coronado, California. In 1978, the Coronado Bridge won a design competition in the 1978 World Bridge Beauty Contest.
Life in San Diego can be beautiful if you have enough money in your pocket. If you don't have enough money, then it's not so much fun, because you're always trying to figure out how you can get a fast personal loan. It's especially complicated if you have a bad credit record, because then you know for sure the banks won't help you. But do you own a car? If you do, then you have the option of sending an application to Montana Capital Car Title Loans in San Diego. Since the form is online, you don't even need to go outside of your home to apply for quick cash. Send in the request day or night and we'll take it from there.
We won't pry into your personal life by asking you why you need the money. That's not what is important. What is important is that you own a car that is valuable so we can use that value as security for a fast cash loan. If your car has a high enough value, you can pay back the loan and you meet our credit specifications, we'll contact you as quickly as possible to continue the process. We even approve applicants with bad credit, if they meet our specifications. So don't wait – apply for your quick cash now from Montana Capital Car Title Loans in San Diego.
Even though car title loans are based on the value of your car, you don't have to give up your car if your request is approved. It's yours to keep and drive as you always do. So apply now and get cash!