Title Loans in Ohio: How to Apply Without Incurring More Debt
Bank loans typically have a much longer process in providing funds. And it's the credit they mainly review to see how much they can give you.
This can burn up someone who's in a rush to get emergency funds.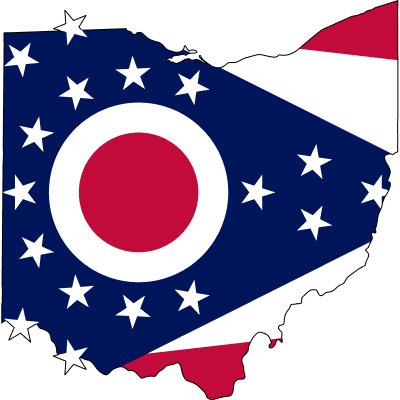 Ohio's flag prominently features a distinctive white and red circular O, representing the state's name and location, against a blue background.
---
Luckily, there are title loans in Ohio you can opt for. And this is WAY faster than your typical bank loans. There's a chance that your credit won't be inspected — it'll be your car instead.
This may sound scary. But trust us, you won't have to wait for several days with this loaning process.
Are you curious enough now? Let's talk about it more below!
How Does a Car Title Loan Work in Ohio?
Car title loans (or call it auto title loans if you want) are acquired by pawning your vehicle title to a lender for a short period of time.
You will get the title back once you've paid back the lender, typically, within 30 days.
Note that it is NOT the car you will pawn, but ONLY the title. You still get to drive your car even while you don't have your title at the moment.
How Much Cash Can I Get From Pledging My Vehicle Title?
The loan amount you will get greatly depends on the equity value (EV) of your vehicle. It doesn't matter if it's old school or not, as long as it still drives straight.
Now, what you should know about title loans is that the interest rates are INCREDIBLY high in Ohio. It falls around a 300 to 600% interest rate (and could be even higher!) per year.
This causes borrowers to tragically DEFAULT on their loans.
So Ohio acted upon this to avoid widespread financial mess. They implemented a Short-Term Loan Act where...
Lenders are only allowed to provide title loans up to $1000
Loan terms will be minimum of 12 months
Interest rates cannot be higher than 28%
Payment options will be dependent on the monthly income of the borrower
Car title loans are no longer accepted as a collateral
So technically, title loans are now ILLEGAL in Ohio.
So Why Are We Still Talking About All This?
Well, it's because there is actually a loophole here. Lenders are a stubborn but clever bunch of people. They have found a way to get around the newly implemented laws.
It is to utilize the Credit Service Organization (CSO). These organizations are basically offering a legal financial service to residents of Ohio, such as credit repair and debt counseling.
Title loan lenders in Ohio will operate under this organization. They will say they don't offer actual bank loans, student loans, and more borrowing options on the surface level.
But they actually propose cash loans to financially struggling people in secret.
The Ohio government is slowly catching up to this unlawful act. CSOs have decreased from 51 to 24. And they might completely disband in the near future if they continue to prey on those who hit a bad patch.
So it is TOTALLY up to you whether you want to apply for an auto title loan or not. You've already seen how much this lending method is predatory in nature after all.
But if you are already deep in the financial hole, well, better to apply for title loans while they are still here.
Only we HIGHLY advise you to find a way to repay the loan within the term.
We don't want you to end up like that one customer who took an $800 loan and ended up paying $3000 in the end.
How to Apply for a Car Title Loan in Ohio
The application process for getting a car title loan in Ohio is direct. You can receive your cash typically within 24 hours of applying. What you will have to do is...
1 - Look for a Trusted Title Lender in Ohio
It goes without saying that it is important to find a RELIABLE lender in Ohio. They may be illegal in the state. But some do actually offer title loans for real.
Before applying, make sure to get to know the ins and outs of the application processes. See if they are offering a reasonable amount of interest rate and other fees, as well as fair loan terms.
DO NOT give in to a dirty deal just because you are in a hopeless situation. You will only put yourself in a much worse place if you play into their hands.
2 - Submit the Requirements
There's an application form you will have to fill up online (or in-person if they have a storefront). But apart from that, you will also have to submit other more requirements such as:
Government-issued ID (such as driver's license or passport)
Proof of income (such as pay stubs or bank statements)
Proof of residence (such as mails or lease agreements)
Photos of your vehicle
Free and clear vehicle title
Some lenders require more documents to ensure you have no problem paying the loans within the due date. So prepare these just in case they need them as well:
Credit
Bank account information
This obviously implies that those below 18 years old are NOT allowed to apply for a loan since they can't own credit and bank accounts by themselves only.
3 - Verification
They will start checking your financial status as well as the actual vehicle once all necessary documents are submitted.
You may be required to drive into the storefront so they can physically evaluate the equity of your vehicle. It usually depends on...
Make
Model
Year
Mileage
And the overall condition of your vehicle
There could be a case where you might have to hand in your keys to your vehicle too during the inspection. Have it duplicated beforehand so you still have access to your car.
They MIGHT also check your credit scores to see if you are capable of paying the exact loan amount you have borrowed.
What we mean by this is, a lender wants to assess your ability to repay the money your borrow. If you can provide sound evidence/proof, you're more than halfway done!
Having positive credit gives you GREATER rates for title loans.
Take note: you are NOT completely disqualified for a title loan if you have a bad credit score. This is just one way of confirming you have a stable financial background.
You can prove you have alternative options to pay the loans if you don't want to deal with credit.
4 - Receive Your Cash
Needless to say, you get your cash once you have been approved for car title loans.
It can be as low as $200 up to $1000 or higher.
Yes, it says the exact opposite of what the Ohio law says. It is now possible to loan more than $1000 with the disguised CSOs able to find a way out of strict lending.
Again, just make sure you can pay the loans at the end of the term.
You can receive your cash in a variety of methods — it could be in-person or directly through your bank.
5 - Pay the Title Loan
This is by far the MOST important step you have to take with great seriousness.
With illegal doings of title loan organizations in Ohio, loan proceeds could now be short or long-term. Either way, this means you have to complete the payment before or exactly on the agreed date. And that's with additional (and potentially hidden) fees and interest rates.
What Happens if I Have Paid off the Loan?
You will have your vehicle title back as well as the car keys once you have completed the payment.
And with your title back, you're free to get an application for a title loan using the same car again.
You can get title loans as much as you want too, provided that your car is only under one loan contract at a time.
And What Happens if I Can't Pay at All?
You're going to face REAL TROUBLE if you can't provide the total payment within the deadline... And that's still apart from the disguised CSOs who could potentially fully repossess your car.
Specifically, what will happen to your car is it will be sold at an auction to pay off the remaining title loans you haven't paid.
But what will happen to you is more nightmare...
You can get stuck in the financial hole FOREVER. And we are not kidding. We can't emphasize enough how essential it is to be able to pay the title loans on time.
What Can I Do About This?
You can request refinancing if this ever happens to you, which we hope not.
But just be aware that NOT all lenders can be supportive when you get into this kind of situation.
Ensure you are approaching the right one so you won't get into any more trouble than you are already in.
Should You Get Car Title Loans in Ohio?
Title loans could be one of the easiest solutions to getting fast money. But you are actually risking a lot here. It's not just your car and money on the line, but as well as your FUTURE. It will be difficult to find one's feet once you've gone into debt.
So it's critically important to be able to pay the loans on time. Or have backup plans ready in case you'll run out of funds.
If you think you can get through all these, then we can say it's worth getting title loans. But if not, then you'll have to find other ways.