Car Title Loans in Alabama (Al): How to Score the Best Rates
When you need emergency money, you've got to have it fast. And, a title loan is one of the top go-to options.
Whether it is to cover medical expenses, overdue bills, or even your own personal spendings, a title loan is the quickest and the most stress-free solution to your problem.
No long lines, no credit checks, and less requirements needed!
If you want to know more, keep reading.
This article is a COMPLETE guide on title loans in Alabama―from interest rates, the application process, to helpful TIPS and REMINDERS to get the best deals.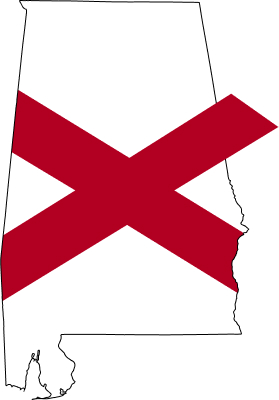 Alabama's flag features a crimson cross on a white background.
---
What Is a Car Title Loan?
By definition, a title loan is a secured loan where borrowers are provided financial aid by the lender in exchange for the borrower's vehicle rights.
In other words, it's a short-term loan that uses your car as a collateral.
What's great about it is it is an accessible and flexible option for people who have a difficult time getting their loans approved by banks and other financial institutions:
As long as you have a vehicle registered under YOUR name, you don't have to worry about the rest.
In SOME cases, a title loan lender does NOT require credit checks, which speeds up the entire borrowing process. You can have your cash ready within hours after your application.
This totally beats having to wait weeks and even months for agencies and banks to reply!
A title loan comes in perfect for borrowers who have bad credit scores, or no credit scores at all, and those who are in desperate need of cash.
Another thing, if you are concerned about whether or not your car is still yours to keep, you can rest easy.
You can still drive your car around!
You won't lose your vehicle title, given that you are able to repay the loan amount and the interest ON TIME.
Here's What You Should Know Before Getting a Car Title Loan in Alabama: How Title Loans Work in Alabama
Because car title loans vary from state to state, here are facts that you should be aware of before signing a loan contract in Alabama. Let's dive right in!
Who Is Qualified for a Title Loan in Alabama?
ANY resident of the state of Alabama is qualified for car title loans, regardless of their employment status.
One of the most frequently asked questions we get on a daily basis is, "I'm unemployed, can I still apply for title loans?"
ABSOLUTELY. State and federal laws do NOT discriminate against a borrower's source of income. People who can apply for title loans are the following:
Employed
Self-Employed
Business Owners
Unemployed
As long as you have the means to pay back your debt, title loans are a great option to keep in mind.
The only requirement for title loans is that you own the rights or the title for the vehicle and that your car loan is FULLY-paid and lien-free.
This means that if you still owe money to the bank for your car loan, you can NOT use that vehicle as collateral. It's as simple as that.
What If I Have a Bad Credit Score?
It DOESN'T matter.
Unlike traditional bank loans, your loans won't get rejected or denied because of such.
HOWEVER, while your employment and low credit ratings are NOT a requirement for a title loans approval in Alabama, it is a deciding factor when it comes to getting BETTER rates and terms.
A lender would, more often than not, perform a background check on the borrowers/applicants to see whether they have the ability to repay the loan amount and other fees and charges that come with it.
Other factors considered by a lender are:
Unemployment Benefits
Upcoming Job
Pension
Income of Someone Who May Co-Sign Your Title Loan
Value of Vehicle
How Much Money Can I Borrow?
In most states, the maximum loan amounts to $10,000 with a 30% cap.
But in Alabama, the loan limit is only 25% of the car's cash value. You may get an offer between $100 to $50,000 max, depending on the current market value or resale value of your vehicle.
Do Title Loans Come With Extra Fees?
Like any other loans, a title loan is not exempted from extra charges and interest rates.
Whenever you take out loans in Alabama, a lender can charge you up to 25% interest on a title loan per month, or an annual percentage rate (APR) of 300%.
Confused? Trust us, we've been there too. But, here's how a typical loan title works in Alabama:
You want to borrow $1,000 for 30 days.
The vehicle value is verified and qualified, and the title loan is approved.
The lender charges a finance fee/ interest of 25%, which means that you have to pay $250 to be able to borrow $1,000.
When the deadline is up, you must repay the lender $1,250 in total, or else your vehicle title can be taken away.
How Long Do I Have to Repay the Title Loans?
Since loan titles are short-term loans, the maximum amount of time a borrower can catch up on payments in Alabama is 1 month or roughly 30 days.
One of the downsides of title loans is that the payment deadline is almost always fast approaching. If you don't have any means or other sources to generate income from, you may end up losing your car.
Can I Reschedule Title Loan Payments If I Cannot Repay the Loan on Time?
Negotiations are certainly up on the table, but we highly discourage it.
For one, it will lead to more charges needing to be paid.
Although you can work on a new agreement or an extension, lenders may end up requesting you to pay more, which defeats the purpose of having to borrow for emergency use if your debt is only piling up.
Another thing, it breaks the trust between the lender and borrower.
Can I Repossess My Car?
If you can buy it back from the lender, yes, you can take repossession of your car.
However, the odds of that happening are slim.
According to Alabama title loans laws, once you forfeit your vehicle title because you were unable to repay your loan, the lender gets full ownership.
As a way to cover the outstanding balance, the lender can sell it off and keep the surplus amount for himself.
Typically, the extra amount from the sale is returned to the borrower, but this is not the case in Alabama.
Step-By-Step Guide: How to Apply for Car Title Loans in Alabama
The process of obtaining title loans is simple and takes less than half a day. Here are the steps to getting your loans successfully approved today!
Step 1: Fill Up Your Application ONLINE
Start by doing simple research on lending companies in your local area. Make sure to check for the interest rates, repayment conditions, and customer reviews.
Once you've chosen a trusted lender in Alabama, find the application form on the site to begin the pre-approval process. Typically, a lender will require the following basic information for review:
Full Legal Name
Contact/ Cell Phone Number
Address
Source of Income
Vehicle Model
Vehicle Mileage
Vehicle Year
Vehicle Make
The more information you can provide, the quicker your application process would be.
Step 2: Submit Documents on Site
After which, you will be required to submit the necessary paperwork on site.
Note: While loan applications are available online, lenders will still need to verify the condition of your car and the information you gave before releasing the cash. To proceed, you'll have to drop by the lender's office or visit the service site.
Most lending companies in Alabama ask for the following documents:
Original vehicle title with your name
Proof of Insurance (includes registration papers for your car title)
Valid Government Issued I.D.
Proof of Residency in Alabama
Pay Stubs or any other proof of borrower's capability to repay the loan titles.
Two to three valid references
Proof of income and bank credit score are only OPTIONAL.
Once your documents are complete, the lender will keep the title on the vehicle and place a lien on it temporarily.
Step 3: Review Terms and Conditions
This is a crucial step.
Because most borrowers urgently need cash, they skip this part, not knowing they could end up in a potential debt trap.
Hidden fees, usurious interest rates, and unfavorable terms often lead to more money problems. That is why before signing that dotted line, make sure to read carefully, ask for clarifications, and negotiate when necessary.
Step 3: Collect Your Money
Finally, the fun part: getting your cash!
Once your lender contacts you to confirm the approval of your car title loans, he or she will give you options on how to claim your money.
And, just like that, you have enough money for your short-term needs thanks to title loans!
A successful title loan is guaranteed if you follow these steps. Now all you have to do is comply with the loan terms and pay within the deadline to avoid any problems or mishaps.
Tips for Securing the Best Title Loans in Alabama
1. Do Your Research
With so many lending agents and companies present in Alabama, finding one that is right for you is a tough job and requires a good deal of research on your part.
And, no, you CAN'T rush it.
Applying for title loans is like being pregnant: planning is a MUST!
While having plenty of options is equivalent to having unlimited sources for cash, it's not always a good thing. Dishonest lenders will entice you with unscrupulous terms and false marketing, so beware!
If you're not careful, you might fall into a potential debt trap.
Key Tip: Check if the title lender is registered to legally operate in Alabama.
2. Build Trust with Lender
The key to getting your loans approved quickly in Alabama is to build a good relationship with your lending company.
You can do so by paying your loans on time and proving your ability to pay back your debt.
Think of it as borrowing a hundred bucks from your friend. The last thing you'll want to do is break their trust and friendship, just because you can't pay back the money he/she lent you.
Apply for Alabama Title Loan Today!
Title loans are great for your short-term needs as they provide flexibility and convenience.
We hope you found all the information you need to apply for title loans in the Heart of Dixie, Alabama today!