RV Title Loans – Everything You Need to Know
How much cash can i get
Find out now. It's fast, secure & free!
Do you need fast cash? An RV title loan may be able to help!
More than 2 million Americans use auto title loans annually, according to a study conducted by The Pew Charitable Trusts. Now, RV title loans enable RV owners to borrow against the value of their vehicles. As such, RV title loans are becoming exceedingly popular.
If you own a lien-free RV, you may be able to borrow money against it and use the funds for your financial emergency.
Don't be discouraged if you have bad credit. At Montana Capital, our primary factors of approval for title loans are your ability to repay the loan (which can include factors like your income and expenses) and your RV's market value. While we may run your credit, even if you have poor credit, it will not automatically disqualify you. After all, this type of loan is for consumers who have a bad credit history and need emergency money.
Check out everything you need to know about RV title loans.
In a Nutshell
Did you know you can get the cash you need using your RV's equity? Your RV can be used as collateral for the title loan, and you can continue driving it as long as you make your monthly payments on time! However, it's essential to be aware that the interest rate on title loans is high, and if you don't make payments, you may lose your RV. Therefore, title loans are typically taken out by people with bad credit who are in need of fast cash for an emergency.
In the title loans industry, loan amounts can vary greatly, with some lenders offering up to $50,000. At our company, we provide loan amounts ranging from $2,600 to $20,000, offering a flexible borrowing option for your needs.
---
What Is an RV Title Loan?
An RV (recreational vehicle) title loan is a loan against the equity in your RV. In exchange for the money, you'll give up possession of the RV's title until the loan is paid off. It is a convenient option for borrowers who want to continue to drive and live in their RV full time while paying back their loan.
When you repay the loan's full balance, you receive the title back, and the lien is removed from it, allowing you to keep or sell the RV.
So, what are RV title loans all about? To find out, let's take a look at key questions surrounding RV title loans.
RV Title Loans Near You
We can help you secure a loan near you. Here's what you can expect:
Loan amounts between $2,600 – $20,000
Borrow up to 70% of your RV's value
Payout in as little as 1 business day or less
Loan terms between 12 and 36 months
Quick and easy online application process
Are There RV Title Loan Requirements?
RV title loan requirements are generally minimal and may vary based on the specific title loan lender you choose. It's important to check with your lender for their particular set of requirements. The following are common requirements* that you will probably be asked to provide with your title loans lender as well, including us:
RV Title: Must be in your name and free of liens.
Proof of Identity: A government-issued ID.
Proof of Income: Pay stubs, bank statements, or tax returns.
Insurance: Your RV needs to be insured.
Photos of the RV: To assess its condition and value.
Proof of Residence: A utility bill or lease agreement.
RV Must Be Fully Paid Off: No existing loans on the RV
*Specific requirements may apply
Comparing RV, Mobile Home & Travel Trailer Title Loans
We offer title loans on RVs, mobile home title loans, and travel trailer title loans, but there is a difference between RVs, mobile homes, and travel trailers and sometimes people confuse the terms. Let's take a look.
RV – RVs are recreational vehicles that are meant for travel. They drive long distances and can be parked in campgrounds or designated RV parks. They're like a car and camper, but one vehicle. These cannot be a stand-alone trailer that is pulled by a car or truck.
Mobile Home – A mobile home is a more permanent structure where you might live or vacation. You don't drive a mobile home around; instead, it's fixed permanently to the ground often on its own foundation.
Travel Trailer – A travel trailer hooks to your truck or another large vehicle, and you tow it to your location. These can include campers and 5th wheels.
Lender Tip: You can use any kind of vehicle as collateral as long as it has a clear title in your name.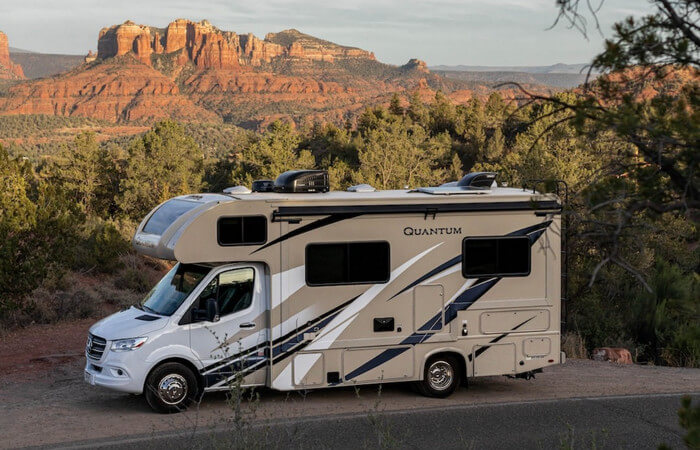 How Instant RV Title Loans Work
RV title loans are short-term secured loans, and approved applicants can receive around 50% of their vehicle's value on average. At Montana Capital, approved borrowers can receive up to 70% of their vehicle's value, or up to $20,000.
How much cash you receive is based on multiple factors, such as your income and the value of your RV. This means you must earn enough money to be able to pay back the loan and your RV must have enough equity to be used as collateral to secure the loan.
In general, most lenders require RVs to have a free and clear title for approval. However, If your RV does have a lien on the title, some lenders may consider your application if the lien is small enough to be paid off with the loan while leaving enough cash available for your emergency.
Lender tip:
While title loans lenders does run a credit check, a low score or poor credit history does not automatically disqualify you. Credit is only one of many eligibility factors.
RV Title Loan Process
The RV title loan process is quick and easy when you take advantage of our online application. Here is how it works.
Application
The RV title loan process begins with an application. You can apply over the phone at 800-700-8900 or by completing our online application. You will then answer a few questions and provide background information, including:
Name
Address
Loan amount
Employment status
Contact information
All information is kept safe and secure. If you are preapproved, you will receive a free, no-obligation quote!
Submit Required Documents
To get approved for RV title loans, you can upload all of your documents online to speed up the process and prove that you meet the title loan requirements.
An RV title with your name
Proof of residence
Photos of your RV
Government-issued ID
Receiving Your Funds
If you accept the loan terms, you will send us your RV's title and receive your funds in one of the following ways:
Direct deposit
In-person check
MoneyGram location
Prepaid card or debit
The Pros and Cons of RV Title Loans
There are many benefits to getting a secured loan on your RV, but all loans come with some risk. It's essential to compare both of these when deciding if an RV title loan is right for you.
Benefits
Fast application and approval decision
Funds as quickly as the next business day
Credit of all types are welcome to apply
Continue using your RV during the loan
Employment income not required
Risks
Other Types of Recreational Vehicles That Qualify
There are several types of recreational vehicles that qualify for title loans. Reach out to us to begin the application process for one of the following options.
Travel Trailer Title Loan
Those who own a travel trailer and need financial assistance can apply for a travel trailer title loan. Travel trailers, also known as camper trailers or towable RVs, are nonmotorized vehicles used for temporary living quarters during travel, camping, or recreation.
Montana Capital offers title loans for travel trailers based on their value. A copy of your title or registration document is required to prove ownership.
Mobile Home title Loan
Mobile homes, also called manufactured homes, are prefabricated houses that can be moved easily due to their trailer frame or undercarriage. Since mobile homes require a mortgage, according to the U.S. Department of Housing and Urban Development, they can be used as collateral for loans.
If you're qualified, you can get a mobile home title loan using your deed. A mobile home title loan follows the same process as a general title loan.
FAQs
Are the Funds for RV Title Loans Online Instant?
Our online application only takes about 5 minutes to complete. Here are the steps taken after submission.
You will receive a preapproval answer soon, even if your documentation review is not yet complete.
Final funding time starts when your application gets final approval, all documents are submitted, and your agreement is signed.
If you submit all your documentation and sign the loan agreement before 2:00 pm on a business day, some borrowers may receive their funds in as little as 5 hours.
Do I Need to Be Currently Employed to Qualify for RV Title Loans?
You don't need to be employed to qualify for an RV loan. However, you must prove adequate income to cover the monthly payments and your existing debts. The income can be from other sources if you have sufficient proof of receipt. Alternative proof of income can include the following:
Trust documentation
Settlement documentation
Tax statements
Disability award letters
Social security benefits
Workers' compensation
Severance pay documentation
How Do I Get My RV Title After I Pay Off My Loan?
After you pay off your title loan, we will send your title back to you in the mail, lien-free. If you don't receive your title and have made your last payment, call us and speak with a representative for an update. If you have additional questions, contact us or visit our comprehensive title loan FAQ page here.
How Much Money Can You Get with an RV Title Loan?
Typically, approved applicants can receive about 50% of their vehicle's value and up to $50,000. However, at Montana Capital, borrowers may get up to 70% of their vehicle's value, capped at $20,000, upon approval.
keep in mind: The amount of money you can get with an RV title loan depends on a lender's valuation of your vehicle, your ability to repay the loan and the lender itself.
What Happens If You Don't Pay Your RV Title Loan on Time?
A piece of RV title loan advice: don't bite off more than you can chew. Because if you cannot pay off your RV title loan on schedule, your lender can seize your vehicle without notice. Usually, vehicles are subject to repossession after 90 days of missed payments, although legally, it could occur after just a single missed payment.
Research shows one in five title loan borrowers lose their vehicles. Conversely, if you make your loan payments on time, you have no reason to worry. Before you know it, you will have your RV title loan paid in full.
Who Should You Choose for an RV Title Loan?
There is no shortage of lenders that provide RV title loans, and as a result, distinguishing an exceptional lender from an average lender is sometimes difficult.
Ultimately, the best lender for an RV title loan provides the following:
Outstanding Customer Service — Your lender should be accessible via phone call, email, and in-person to answer your RV title loan questions.
Reliable Reputation: Check reviews and ratings for a proven track record of positive customer experiences.
Transparent Terms: Ensure the lender clearly explains all terms, fees, and interest rates before you sign.
Competitive Interest Rates: Lower rates will save you money over the life of the loan.
Flexible Repayment Options: Look for a lender who offers payment plans that suit your financial situation.
Customer Service: Good support can make the loan process smoother and help you deal with any issues.
No Prepayment Penalties: The lender should allow you to pay off the loan early without extra fees.
Loan Amount: Choose a lender who can provide the loan amount you need based on your RV's value.

Remember, your unique needs and circumstances will ultimately determine the best lender for you.
Can I Get An RV Title Loan With Poor Credit
Yes, it is possible to obtain an RV title loan even with poor credit. RV title loans are typically based on the value of your vehicle rather than your credit history. This makes them a viable option for individuals with bad credit, no credit, or past loan defaults.

While some lenders may perform a minimal credit check to look for serious financial issues, such as recent repossessions or bankruptcies, the primary focus is on the value and condition of your RV.
RV Title Loans – Summary
Financial emergencies are never easy and can leave you feeling overwhelmed. We aim to offer instant financial solutions using your RV to help you through these tough times.
If you don't want to put your daily driver at risk with a car title loan, a title loan for your RV may be a good alternative. The application process is virtually identical to other types of title loans and can provide convenient access to cash when you need it- up to $20,000! The best part is you don't have to give up your RV. If you're ready to check if you qualify for an RV title loan, apply online and get a free quote from us today.