How much cash can i get
Find out now. It's fast, secure & free!
Do you need cash fast? If you own a boat, you may be able to get the money that you need right away. You won't have to sell the boat or even stop using it. All you have to do is call Montana Capital Car Title Loans and apply for a title loan on a boat.
Our representatives are ready to talk to you about getting the money you need. We offer title loans across California. We will do our best to match the right payment plan for you, so the loan won't become a burden too heavy on your shoulders.

Key Facts About Boat Title Loans
What is a Boat Title Loan?
Boat title loans are a type of personal loan that is secured using the title to your boat. Using the title to secure the loan is different than using the vehicle itself to secure the loan. For one, you will be able to keep and use the boat for the entire term. You will only lose possession of the boat if you default on the loan.
The amount of boat title loans depends on the value of your boat, as well as other criteria, such as the ability to repay the loan and your credit history. You will be able to borrow against a portion of the value of the boat, and you have the freedom to borrow as much as you can or a lesser amount that will be easier to repay.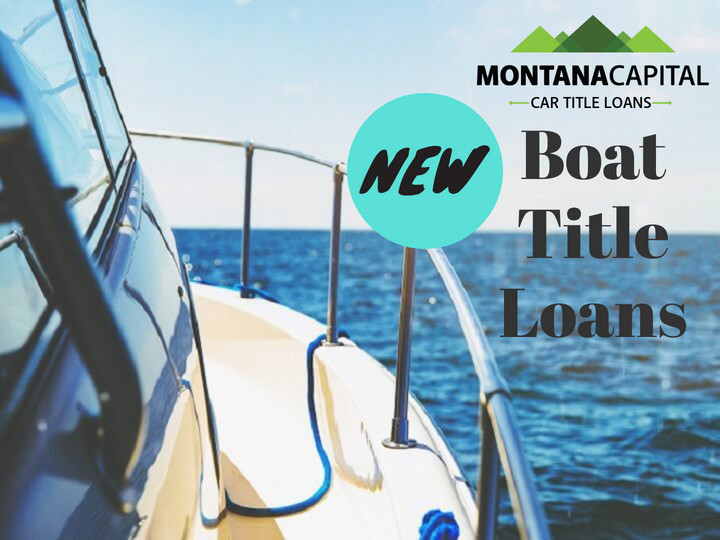 How to Apply for Your Boat Title Loan
Applying for boat title loans is quite easy and almost hassle-free, as long as you have the paperwork all sorted out beforehand. We've gathered up some information to help you smooth things up.
Boat Title Loan Requirements
In order to qualify for a boat title loan, you will need to provide information about the boat and yourself. This information is used to help determine your ownership of the boat and the amount of money that you can borrow.
Before you visit to complete your loan application, please prepare the following information…
Your personal identification





The title for your boat





Any information that covers or verifies the condition of your boat. You may also need to allow one of our agents to inspect your boat to verify the condition





Proof of insurance (your boat will need to be fully covered)
If you have any questions, you can always contact the lender to learn what information you should carry. We would be happy to help you understand how do title loans work.
Visit the lender's office to complete your application
When you're ready to complete your boat title loans application, visit the lender's office to get things finalized. He'll take through the rest of the application process and answer any remaining questions you have about your boat title loan.
Get your cash
How would you like your money? Most lenders offer various types of transfers up to and including a stack of cash. Once you have your money, keeping up with your loan can be effortless. Most allow payments online, over the phone, by mail, and in-person at their physical locations.
What are the Benefits of a Boat Title Loan?
You have many options for fast cash, but title loans come with advantages that cannot be matched by most other types of personal loans.
Easy qualification, even with poor credit
Title loans are secured by valuable personal property, so you may be able to qualify even if you have some marks on your credit history. As long as your watercraft in is good condition and you have the ability to repay the loan, you can probably unlock the boat's equity.
Enjoy larger loans than boat pawn agreements
Pawning your boat is another route to fast cash, but you'll only be offered a small fraction of what your boat is worth. A title loan may not equal the full value of your boat, but it will be a greater amount than you could claim with a title pawn agreement.
Continue using your boat
Many types of collateral loans will require you to turn the boat over to a storage center or impound lot. That's not the case with title loans. You will enjoy full use of the boat for your entire loan period.
This is an especially important advantage if your boat is your livelihood. If you use your boat for fishing or sightseeing tours, you can continue to collect your income.
Boat title loans near me
One of the main advantages of boat title loans is availability. There are many boat title loan providers out there, so most chances you'll find a great lender not far away from home.
Why Choose Montana Capital Car Title Loans?
We are a leading title loan company in US. For years, we've been offering easy car title loans to people all around US. We are well-versed in the title loan laws that determine how we can offer the best service.
Call today to find out about our personal loan options and how we can give you the help you need.