Unlock Fast Cash in Texas with Car Title Loans
If you are a Texas resident with a vehicle that can be used as collateral, a car title loan may be an option if you need to secure a lot of cash fast.
Whether you have good or bad credit, we encourage you to complete our no-obligation, 100% online loan request form. The best part is you get to keep your car while using the funds from your title loan.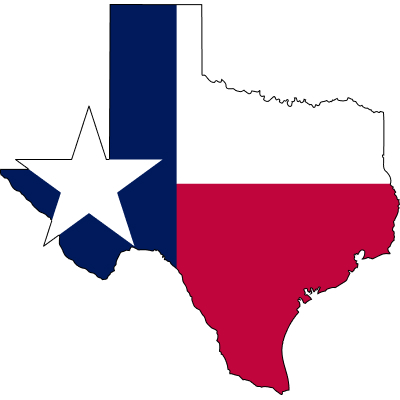 Texas, known as the "Lone Star State," features a single star on its flag symbolizing its independent spirit and historical significance.
---
See how much you can get with your qualifying vehicle title. It's fast, free (no obligation), easy, and secure.
---
Texas, known as "The Lone Star State," boasts a flag with a single star representing its history as an independent republic before joining the United States.
---
Texas Title Loan Law - Key Takeaways
*Please note that these are general guidelines, and some information may vary depending on the lender and individual circumstances. Usually the min age is 18 and the max loan term is 180 days. Always make sure you understand all loan terms before signing the loan agreement to ensure you are able to repay the loan.
Learn How Car Title Loans in Texas Work
Title loans are based on collateral. In this case, the collateral is your car's title. You give the car title to the auto title loan lender, and receive the loan funds. In return, you agree to repay the entire loan amount plus interest by the loan's due date.
Title loans are typically fast, which is why most people use them in emergencies. Depending on the time of day you apply and provide your loan documentation, you may receive funds within a few hours or by the next business day.
Loan approval is based primarily on your ability to repay the loan and your vehicle's value. This makes title loans accessible to those with bad credit.
Here's a Closer Look At What Lenders Consider:
Ability to Repay - Title loan lenders' main concern is whether a borrower has consistent income coming in to pay back the loan, but that doesn't mean they need to have a job. Borrowers can prove their ability to repay from many sources, including pay stubs from employment income, cash settlements, social security benefits, severance pay, bank statements, annuities, and more.
Your Car's Value - Using your car as collateral for the loan protects the lender should you default. If you stop making payments, they can repossess and sell your vehicle and use the funds as repayment. To find the value of your car, use resources like Kelly Blue Book or Edmunds. If you have any liens, just subtract them from the value. Whatever is left, or if you don't have any liens, is the equity in your vehicle or how much it is worth.
Texas Title Loans at a Glance
Eligibility - Borrowers must be at least 18 years old, have no liens on the vehicle, have enough income to repay the loan, have a vehicle with enough value, and your name must be on the title.
Application - Applicants must provide all personal information and documentation required by the lender. This usually includes photos of the vehicle to determine its value.
Loan Agreement - If approved, you will be provided with a contract laying out the terms of your title loan. Review all of the information and ask any questions you have before signing. You will then transfer the title over to the lender for the duration of the loan.
Repayment - Pay your loan back according to the terms of your loan agreement in scheduled installments. If you fail to make payments on time, your vehicle can be repossessed.
Texas Car Title Loan Options
With online title loans, you can keep driving your vehicle and use the cash however you need. You'll provide the lender with your car's title in exchange for the loan, and you will get it back free of liens once you pay the loan off in full.
Lenders must adhere to all Texas title loan laws and can help Texas residents with their title loan needs. Here is what you can expect:
Interest rates - Per Texas title loan law, interest rates can't exceed 10% monthly.
Loan amounts - Loan amounts in Texas may vary. Cities like Austin, Houston, San Antonio, Dallas, and Killeen have some limitations; see the table above.
Loan terms - Per Texas law, can only offer terms up to 180 days. This includes any rollovers into a new loan you may request.
Funding timeline - Funding can happen in as few as 5 hours of final approval if all loan documents are reviewed, approved, and signed before 2:00 pm your lender's time on a business day.
How to Qualify for Texas Title Loans at Montana Capital
Be at least 18 years old
Own a car with your name on the title
Have adequate income to repay the loan
Prove you are a Texas resident
Skyline, Dallas, Texas
---
What I Need To Apply for a Title Loan In Texas
The documentation needed to meet the car title loan requirements include the following:
State-issued photo ID, such as a driver's license, state photo ID, or passport
Provide proof of income, such as pay stubs, tax returns, bank statements, etc.
Provide personal or professional references (required in some cases)
Texas Car Title Loan Process
Starting the Texas vehicle title loan online process is easy with Montana Capital's loan request form. You can complete most of the process online, secure conditional approval, and be on your way to getting fast title loans online and taking care of your emergency.
Follow these quick title loan application process steps to get a title loan online.
1. Complete The Online Loan Request Form
To complete the pre-approval process, Texas customers must answer questions online about the car. This includes information about the car's make and model. You must also provide the car's VIN number and mileage amount for online car title loans.
2. Submit Documentation
You may be asked to provide additional documents by your lender. This information includes income documentation, your state-issued ID, and a copy of your title.
3. Review Pre-approval Decision and Terms
A conditional approval which includes the loan amount, interest rate, and loan terms may be given. If you choose to move forward with the loan, you will provide any outstanding documentation, such as sending your original title and any other required documentation for approval.
4. Accept, Sign, and Repay!
After receiving final approval, you will accept the terms and sign your disclosures. Funding time starts once you get final approval. If your lender receives, reviews, and approves all required documents and your loan agreement is signed by 2:00 pm your lender's time, you may receive funds in as few as 5 hours. Otherwise, most loans are funded within 1 business day.
The repayment process requires you to make monthly payments on the same date.
Tips for Borrowers
Don't borrow more than you need
Use title loans for emergencies
Watch out for high-interest rates
Always vet a lender's reputation
Pros and Cons of Texas Car Title Loans
Texas title loans online may help you in an emergency. However, there are important factors to consider.
Pros of Car Title Loans
Cons of Car Title Loans
No limit to the fees charged on Texas title loans
Some Texas cities significantly limit the loan amount
The longest loan term available is 180 days
Texas State Capitol, Austin, USA
---
Car Title Loan Alternatives
A Texas auto title loan isn't the only option when you need fast cash. Here are some alternatives to consider. It's best to work with a financial advisor to determine the best option.
Friend or Family Loan
Friends or family may loan you the money needed for an emergency. You don't have to worry about an approval process or high fees. However, be sure you work out the loan details and put them in writing.
Personal Loan
Personal loans are unsecured loans offered by banks or online lenders. Because there's no collateral, the amount you can borrow and the personal loan terms depend on your credit history and ability to repay the loan.
Home Equity Loan
Instead of borrowing from your car, you can borrow from your home's equity. Home equity loans are a type of secured loan and usually cost much less than online car title loans, but the process is much slower.
Title Loans in Texas FAQs
The Bottom Line
Title loans in Texas provide fast access to money when needed. Remember that auto title loans online should only be used in emergencies because they can get expensive.
You may secure the funds needed with only a few documents and proof you own the car without any liens. Consult with your financial advisor, and if you decide it's the right move, the quick and easy application process at Montana Capital Car Title Loans can help you get the funds you need as soon as possible.
Apply today to see if you are qualified for a title loan with Montana Capital. It's free, there are no obligations, and it only takes a few minutes!