Title Loans in Oklahoma [Everything You Need to Know Before You Apply for a Loan]
As much as we try to avoid it, bad things happen.
And some bad things require us to get our hands on emergency funding as soon as possible. But for many types of loans, it's not possible to get the money in an instant.
This is where a title loan can be your savior.
But before you apply, you might want to consider everything else to ensure this loan you'll be making won't be more detrimental than helpful.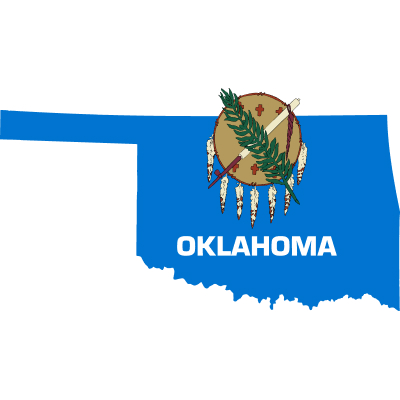 Oklahoma, known as "The Sooner State," features a vibrant Osage shield on its flag symbolizing Native American heritage and culture.
---
What Is a Title Loan? How Does it Work?
It's basically when you get money in exchange for your vehicle title. When you don't pay it back, you lose your car.
They're called slightly different terms; yet they're all the same: title loans, car title loans, auto title loans.
Keep in mind that the terms and conditions in Oklahoma versus other places around the country vary a bit, but they're generally similar.
To make things even simpler to understand, remember the acronym C.A.R.
Collateral
You'll first set up your vehicle title as collateral.
Some dealers still let you use your vehicle while you're on the plan since you're just technically passing on the title. But some will require you to turn over the vehicle to them.
Acquire the Loan Money
The deal is, you'll get cash in exchange for the car title loan. Some can give you cash instantly on the same day.
Of course, there will be screening as they do a car and credit check to decide on your interest rates, plan duration, and repayment terms.
You'll then be given a duration to pay it back. The terms and duration will then depend on the title loan lenders or agency you're dealing with.
Repay or Repossess
Once you repay the amount you borrowed from the lenders, plus the interest, you'll get both your vehicle and car title back.
If you don't, the lenders will repossess your car and can even demand payment penalties. In other words, you'll lose your vehicle and car title.
Loan Application Requirements of Title Loans in Oklahoma
Yes, Oklahoma has vast car title loan dealership options to answer a frequently asked question (FAQ) quickly.
For the application requirements, they're generally similar throughout the U.S. But there are some variations per state or city.
Here are the Requirements for a Title Loan in Oklahoma:
Valid I.D.: This should be issued by the government (i.e., passport, license, state I.D.)
Proof of Residence: You need to be a resident of the state to apply (i.e., lease or mortgage information)
Vehicle Title: Of course, this is a given.
Income Verification: You need to prove you can pay them back (i.e., bank account statement)
References: Some lenders will call up your references to do a little background on you.
Vehicle Inspection: This is not a document but the car itself. They'll have to assess your car - the mileage, condition, and overall state.
Additional Factors to Consider in Oklahoma
Those mentioned above are the general and strict requirements you need to ensure when applying for cash loans.
But there are additional things you might want to consider as well.
Good credit score: It's not required to have a perfect credit score, but a bad credit history still affects your application. After all, your credit history is proof of how well you pay and if your loan agent can trust that you'll comply properly.
Some people claim to not worry about bad credit scores. We want to reiterate that lenders perform a credit check, and while you may get approved regardless, you'll likely have not-so-good terms if you have a bad credit history.
Clear car title: Some dealers prefer a clear title, which means no other loans are attached to your collateral.
Overall car condition: There's no strict requirement on the kind of vehicle you'll loan, but the condition of your car will also affect the terms you'll have. Naturally, a better condition would mean better rates.
Oklahoma Title Loans PROS and CONS
There are certainly important PROS and CONS when it comes to an auto title loan.
We highly urge you to read through it before you push through with your title loan application.
Benefits of Title Loans
There's a reason why car title loans are rampant - because people apply for them.
But why?
Instant cash
There are many sources for car title loans, so it's convenient
If complied properly, you can get your vehicle back
Drawbacks of Title Loans
But if it all seems too good to be true, it's because it is.
There's definitely a catch behind these car title loans, and you'll find yourself in an endless cycle of debt if you're not careful.
High-interest rates on top of the value of the loan proceeds
Expensive
Limited time to return the money
If unable to pay on time, you'll lose your vehicle and title for good.
If you're not in debt, you might think it's easy to return payments and avoid all these cons.
But that's the point if you're already in debt - and you'll be bombarded with high interests in return for a small amount of instant cash. You're paying more than the return.
Where Can You Apply for Title Loans in Oklahoma?
Applying for a car title loan in Oklahoma is a lot easier than you'd expect. Aside from the fact that there's a lot, there is also plenty of assistance provided online.
We encourage you to opt for title loan agencies you're familiar with in Oklahoma or know someone who can help you. Remember that your security is the most important to protect here.
Applying for a Title Loan in Oklahoma Frequently Asked Questions [FAQs]
To help you further, here are some FAQs that you'll find helpful.
How Much Cash Can I Get After a Title Loan Application?
The rule of thumb is around 25% to 50% of your vehicle's value. This will vary from one lender to another, but this is the general term.
Make sure to assess if you're getting an ample amount for what you're giving up or risking.
How Much and When Should I Pay Back?
Once you get your money, it doesn't end there.
Payments should be made in a certain time span, with additional amounts, and you need to be wary else you risk losing your vehicle for good.
The matter of when varies from one lender to another, but generally, you'll be given 30 days. You can ask for extensions, but that's with additional costs.
For the how much, it's the value of how much was lent to you, PLUS THE INTEREST ADDED. They also usually charge you a certain fee for every amount lent, so that's included.
For example, you got a loan of $1,000 with a fee of 10%. When the due date comes, you'll have to pay $1,100 in total.
Why Are There A Lot of Requirements to Get a Title Loan in Oklahoma?
To be fair to Oklahoma, what we discussed in this article is specific to Oklahoma, but the requirements are also more or less the same in all parts of the country.
These "strict" requirements are needed to ensure you'll be able to pay off the title loans properly. After all, these title loan agencies are also businesses seeking to help and also make a profit.
Requirements like bank account statements, income verification documents, credit history, etc., are all supporting documents of who you are and if you're qualified for the application.
What Should I Consider in Choosing a Title Loan Agency or Car Title Loans Lender?
It's important to check the following:
Good customer service: You want to be guided properly, of course, especially if you're still unfamiliar with the process.
Interest Rate: Don't fall for a bad interest rate that'll come back to bite you. Consult a finance expert, if you must.
Decent title loan lenders: Some agents don't care about you and only want your money. Be careful.
Reasonable cash and loan payment terms: You have to assess if the terms offered to you are doable and reasonable before leaping.
Why Do I Need to Set Up My Car As Collateral for A Loan? Is It Only in Oklahoma?
Since this is specifically a loan in exchange for your auto title, your lender's collateral is an added security to ensure you'll pay them back.
If you fail to pay off the loan, then the automobile will be repossessed or, in easier words, taken away from you.
And no, this condition is applicable everywhere, not just in Oklahoma.
If you don't like to set up your automobile as collateral, it's better to apply for other kinds of loans.
How Are the Title Loans in Oklahoma? What Do People Say About Oklahoma Title Loans?
Generally (and thankfully), there are few to no negative reviews for Oklahoma title loans. Applicants seem to be satisfied with the terms, payment fees, and returns.
Of course, it's still important to choose the right title loans agencies - whether or not they're Oklahoma-based - since they're the ones, you'll be dealing with directly.
Oklahoma Title Loans Summary [TL;DR]
Applying for a title loan in Oklahoma generally has good reviews.
Oklahoma Title Loan PROS and CONS:
PROS:
Instant cash
Convenient
You can use your automobile during the loan and get it back once paid.
CONS:
Expensive interest rate
Limited time to return the money
If unable to pay on time, you'll lose your automobile and title for good.
Conclusion
At the end of the day, nobody wants to be in loan debt or set up a personal possession as collateral. It's never the preferred option - be it title loans or student loans.
Although sometimes, it's the only solution to an emergency.
We do suggest looking for other alternatives first if you can.
But we're not telling you to skip the title loans if you really need them. And as we said, Oklahoma loans are generally receiving good reviews - given that you can comply properly - so we think that's a good assurance!