Table of Contents
How Much Can You Get With a Car Title Loan
Many times in life, you can find yourself in a situation where you need fast money. Whether it is to pay unexpected bills, an emergency, or any other surprising expense. At Montana Capital, we understand that sometimes life can take you by surprise, and the last thing you want is to struggle to get a quick loan when you need one. A title loan might just be the perfect answer to that problem, and Montana Capital is here to help you get the money you need.
A title loan is a type of secured loan, in which a borrower can use his vehicle as collateral on a loan in exchange for money. You will always get to drive your vehicle for the duration of the loan, as long as you are making your monthly installments on time. The main advantage of a title loan is that almost anyone can be approved to get fast cash with a title loan!
The most frequent question our customers ask when they first call is: "what do I need to get a title loan?". We want to answer this and more questions below, so keep reading to learn more about title loans requirements and how you can take advantage of title loans today.
How Do Title Loans Work?
Generally speaking, title loans are part of a broad category of emergency loans. There are various types of title loans, including Car title loans, Motorcycle title loans, RV title loans, and Commercial truck title loans. Basically, a title loan is a secured loan where you can use your vehicle as collateral on the loan in exchange for cash from a finance company. The finance company will then place a "lien" (lienholder) on the vehicle's title. Once the loan is paid off in full the lien will be removed, and the vehicle's title will be returned to you. Unlike auto pawn loans, you will get to keep driving your vehicle as long as you are making payments on time.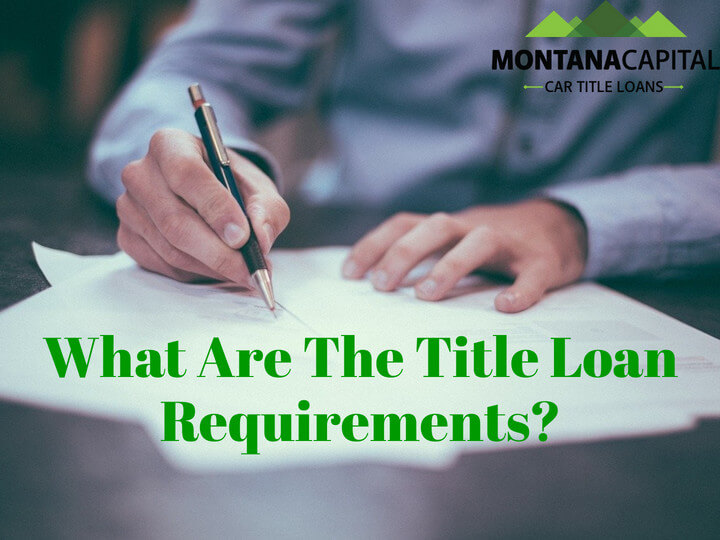 Title loans often tend to carry higher interest rates than most traditional bank loans. So, it is important to consider other alternatives before getting a title loan. If you do not qualify for a traditional bank loan, a title loan might be a good option for you to consider.
For more than 12 years, Montana Capital has been helping our consumers like you struggling financially. Our number one priority is to find a way to help anyone take advantage of title loans.
What Are Car Title Loan Requirements?
Now that you know a little more about title loans, let us get to the fun part: "What do I need for a title loan?"
The following are the basic car title loan requirements needed to be approved for a car title loan and any other type of title loan:
Other title loan requirements may be needed from time to time, based on a case by case scenario.
It is important to make sure that you have all the above during the approval process. This will save valuable time and allow us to help you get cash for your vehicle as fast as possible.
What Documents Do You Need for a Title Loan?
At Montana Capital, we want to make sure the approval process is smooth and easy so you can get your money as fast as possible. It is important to make sure that you have all documents prepared so we can review them swiftly and get you the fast cash that you need.
Documents needed for approval for a title loan are as follows:
We recommend speaking to our team to find out the exact documentation that you will need to present during the approval process. For any further questions regarding the required documents do not hesitate to give us a call at 1-888-700-8900. Our dedicated team will be happy to assist!
Make Sure You Have Everything You Need for A Title Loan
As you have learned, a title loan is a quick and easy option to get funding if you ever run into a financial emergency. Although most people are approved for a title loan, reviewing the title loans requirements needed for a title loan ahead of time can increase your chances of getting the money faster. Therefore, it is important to have everything ready to for the approval process. Our goal is for you to walk out with cash in your hands the same day.
It is also important to remember that some exceptions can be made from time to time regarding some of the requirements and/or documents that are needed. Therefore, if you are unsure or do not have all the necessary requirements or documents, contact us so we can better understand how to get you approved for a title loan. We assure you we will do anything possible to get you the funding you need to help you get back on your feet. That is our guarantee!
Give us a call at 1-888-700-8900 and we will be happy to answer any question you may have. What are you waiting for? You can be on your way to fast cash today!