Title Loans in South Carolina - Your One-Stop Guide Before Applying
If you're here, you probably already have an idea of what a title loan is, but you're just making sure before you apply for one in South Carolina.
It's a good idea to do some additional research, and you're on the right track - so, congratulations!
Lucky for you, you're also in the right place for that.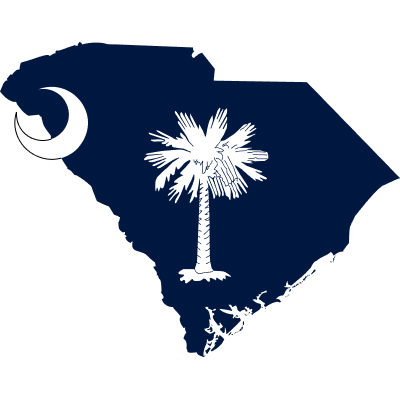 South Carolina, known as "The Palmetto State," features a palmetto tree and a crescent on its flag, symbolizing its historical significance and resilience.
---
What Are Title Loans, Really?
Title loans are called in different names. If you hear an auto title loan, car title loans, title pawns, auto loans - they all mean the same thing.
It's a business operation that runs exactly how it's called - you loan your vehicle title in exchange for cash, and you pay it back after a certain amount of days.
If you don't, you lose the car.
How Do Car Title Loans Work in South Carolina?
Think of it in 3 steps. We'll phrase them in easy-to-digest words so you'll remember them more easily:
Give car and title
Get cash
Give back the cash and more
Step 1: Give Car and Title
Of course, since the car is the main subject here, you have to show your lenders what you can give them.
Here, they'll decide your terms, interest rate, and approval based on your credit check, car condition, and overall background.
Step 2: Get Cash
After checking your credit and all, you'll get the funds immediately.
This is one of the enticing points of a car title loan. They're instantly available, which is perfect for emergency needs.
The cash you'll get is usually 25% to 50% of your vehicle value - depending on the preference and conditions of your lender.
Step 3: Give Back the Money and More
After a certain time period - usually 30 days (1 month) - you'll have to pay back your lender.
But keep in mind it's not only the amount you borrowed; the interest rates and additional fees are also included.
Yes, that's why we added the "and more" in the heading.
If you fail to do so, you'll lose your car and title to the lender - for good.
South Carolina Car Title Loans Basic Requirements
To apply for a title loan, there are specific documents and requirements you need to submit.
These differ from state to state, so we'll specify the ones that South Carolina requires in this heading.
Government-issued I.D. and I.D. photo: This is for identity verification purposes. (i.e., driver's license, state I.D., etc.)
Proof of residence: You need to show that you are residing in South Carolina.
Proof of income: This is to prove that you can pay back the loan amount properly.
Vehicle Title: This needs to be a qualified one. It would be best if you showed your lenders that the vehicle title is indeed yours.
Vehicle photos: For an initial assessment, they'd want to see proof of your vehicle.
There may be additional requirements depending on the title loan agency you approach, but these are the general ones that you shouldn't miss!
How to Get an Approval for Title Loans
These basic requirements won't immediately guarantee that you'll get approved. And if you do, the quality of the interest rates and terms and conditions will vary depending on your lender.
Here are other considerations you can double-check before you apply for a loan:
Good Proof of Income
This will allow them to determine if you have the capacity to pay them back on time. Make sure to show them a reputable bank account statement.
Good Credit History
Contrary to what a lot of internet sources say, title loan lenders perform a credit check. Though it doesn't have to be perfect, a bad credit history will still greatly affect your application.
Why? Because your credit history is a reflection of how well you comply and pay off your debts. Your lender will get a grasp of your background with a simple credit checking.
Though agencies usually have a high acceptance rate regardless of credit - meaning they accept almost everyone. But the difference lies in the conditions that they'll give you based on your credit background.
When it comes to loans, reasonable and decent conditions will be your best friend.
Maintained Vehicle
Since there's a chance that the lender will repossess your vehicle, a part of their considerations is the quality of your vehicle.
It's important to show them a decent car with maintained quality for good loan terms and conditions.
Keep in mind these title loan agencies are also running a business, so it's natural for them to consider their own benefits.
Title Loans: Are They Good or Bad? [Benefits and Drawbacks to Consider]
Like many other things, there are pros and cons to applying for a car title loan.
It's not always the perfect solution to a financial problem, but there are reasons why people opt for title pawns.
Loan Benefits Worth Mentioning
Immediate funds: Unlike other loan systems, title loans let you get the amount you want on the day. For emergencies, this is definitely an option.
You can still use your vehicle: Most lenders allow you to use your car as-is during the loan period. So technically, there isn't much disruption in your daily routine.
You get back the vehicle title once fully paid: So long as you pay your loans on time, you can retrieve the title of your automobile.
Loan Drawbacks to Lookout For
But these instant funds, loans, and all the pros do come at a price and a high one at that.
Because of the seemingly perfect system of these title loan businesses, many people fail to see its implications.
Expensive interest rate: Don't forget that every loan comes with interest. Yes, this is on top of the amount you were lent.
Additional loan fees: There are additional service and financial fees for every dollar you borrow. And yes, this is on top of your interest and borrowed total. Every duration extension will also require additional fees.
Risk of losing your vehicle for good: Once you fail to pay, the lender will repossess your car. They'll now have the right to sell it too, and you'll get none of the proceeds.
Endless debt cycle: You might find yourself in a loop of debts.
Again, this is still a business at the end of the day. Be careful with your transactions!
Title Loans Frequently Asked Questions
You probably have an idea of how title loans work by now and if they're for you.
But for further reading, here are some FAQs that you might want to know before you really push through with your application.
What are the Known Title Loan Agencies in SC?
If you're from SC and you're considering applying, you'd be glad to know that there are many title loan companies in your area.
Why Do Some Title Loans Lender Claim to Have No Credit Checking?
Yes, some don't do a background check.
While this is enticing and helpful for those who need loans but have a bad history, it's also a red flag that you have to think about.
It means that whether or not you can pay off your loans, they'll charge you with interest and additional fees. So if you can't pay your loan, your lender will immediately repossess your vehicle, and you'll be drowning in debts.
We encourage you to look for a lender that isn't just about business but would actually be willing to help you as well. Read up on reviews, consult, and research!
Conclusion
Title loans aren't taboo - it's one of the practical solutions in life.
But it's important to understand where and how your loans work, who your lender is, and what the implications are.
We hope this article was able to help you, and we encourage you to keep researching title loans as you go!