How much cash can i get
Find out now. It's fast, secure & free!
Last update:
When you are in a bind and need some extra cash, title loans can help! Motorcycle title loans are a type of short-term loan that uses your motorcycle as collateral. Approved applicants can receive up to $50,000 as early as the same day.
A great advantage of motorcycle title loans is that you get to keep your motorcycle during loan repayment. It's as easy as filling out an online application, providing the required documentation, and receiving a decision!
Benefits of a Motorcycle Title Loan
Discover the many reasons and benefits of getting a title loan with us: fast approval, flexible terms, and more!
Borrow up to $20,000
100% online application
Continue riding your bike while you pay off your loan
Funding available in as little as 5 hours to 1 business day
No pre-payment penalties or hidden fees for paying your loan off early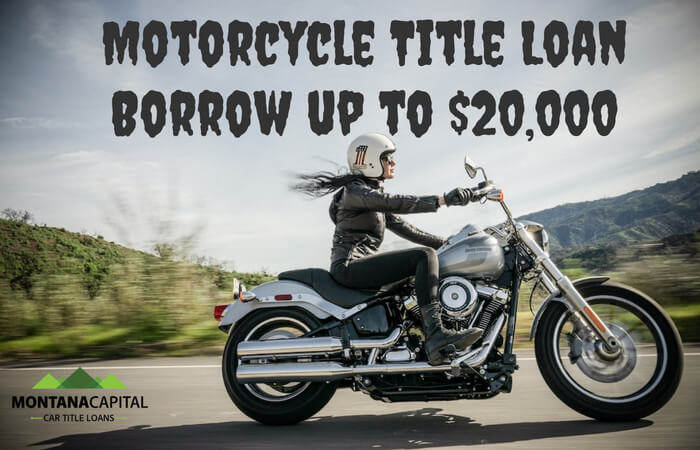 ---
Motorcycle title loans are a great option to receive cash quicker than other borrowing options and can be used for any purpose. Let's break down the motorcycle title loan process.
---
How Do Motorcycle Title Loans Work?
Title Loan Approval with Bad Credit
Bad credit should not prevent you from applying and getting approved for motorcycle title loans. While traditional banks require near-perfect credit to approve borrowers for a loan, title loans are much more lenient.

If you have a clear motorcycle title, you may be able to borrow money against the title of your motorcycle, plus interest. This means that if your motorcycle is paid off, has no existing liens, and is in your name, you can use it as collateral to apply for the loan, even if you have a bad credit score.

There's no need to have a perfect credit score, as credit history is just one of the many factors considered during the application process. However, we may ask to check yours as part of the title loan process. Here's everything you need to know.
Income and Qualification for Motorcycle Title Loan
To qualify for a Motorcycle title loan, you must show your ability to repay the loan. Don't worry if you are unemployed and don't have regular pay stubs. Approval decisions for motorcycle title loans also consider different sources of income, such as:
Pay statements
W2 form
Tax statements
Disability award letters
Social security benefits
Workers' compensation funds
Trust documentation
Awarded settlement documentation
Severance pay documentation
The application process typically takes about five minutes to complete. Then, conditional approval may be given pending review of your documentation.
Motorcycle's Equity:
Equity is required when using a motorcycle's value for loan purposes.
Equity means that your motorcycle is worth more than what you owe on it. Even if your motorcycle has remaining payments, you may still qualify for a title loan.
To secure a title loan, borrowers must own their motorcycle outright and sign the title over to the loan company. This provides the lender with collateral in case of loan default. If repayment is not made, the lender can sell the motorcycle to recover their losses.
To determine your motorcycle's current worth, you can check the Kelly Blue Book for the trade-in fair value. Title loans typically offer 25%-70% of the motorcycle's total value.
How Much Cash You Can Get?
In the title loans industry, lenders often offer approved loan applicants up to $50,000 on the same day. At our company, we provide loans ranging from $2,600 to $20,000. Additionally, we offer up to 70% of your car's value, while the industry typically offers between 25% to 50%. Borrow responsibly and choose terms that align with your financial situation wisely.

It is also wise to research your title loan state's laws. Title loans are not legal in every state. In this case, you won't receive any cash regardless of your motorcycle's value and ability to repay.
Once Approved, How Do I Get My Money?
Once approved for a title loan, you can receive your money through various methods:
Direct Deposit: The funds can be directly deposited into your bank account, making it convenient and fast.
Check: You may receive a check that you can deposit into your bank account or cash as needed.
Cash: In some cases, you can pick up the cash in person at a designated location.
The method of receiving your money may vary depending on the lender and your preference. It's essential to discuss the available options with the lender during the application process.
Motorcycle Title Loan Repayment Plans
The title loan repayment period is typically between 12 and 36 months, and we will try to tailor a payment plan that fits your budget and lifestyle. Repayment options available to borrowers include:
Check/money order
Credit or Debit by phone
Credit or Debit online
Pros and Cons of a Motorcycle Title Loan
Like all loan types, there are pros and cons to motorcycle title loans. Here's what you should consider before applying with a motorcycle title loan lender:
Pros:
Easy verification process
All credit types can apply
Cash as early as the same day
Quick approval decision
Continue to drive your motorcycle
Cons:
Motorcycle title loans often come with higher interest rates compared to traditional loans.
Risk of Vehicle Repossession: Since your motorcycle serves as collateral for the loan, there's a risk of losing your vehicle if you fail to repay the loan as agreed.
It's essential to carefully weigh the pros and cons and assess your financial situation before proceeding with a motorcycle title loan application.
Motorcycle Title Loans Easy to Get!
---
Steps to Securing Motorcycle Title Loans Online
Application
Complete the online title loan application. In this step, you will answer various questions, including:
Name
Contact information
Address
How much you want to borrow
Employment status
Annual income
Application Review/Pre-Qualification
Your application will be reviewed. If you meet the loan requirements, you will receive a prequalification.
Offer
Review your title loan offer, noting the interest rate, loan amount, and repayment term. If you have any questions, don't hesitate to reach out for clarification. We care about our customers and are committed to providing you with the highest level of service.
Online Document Submission
Provide the necessary documentation to prove you meet the title loan requirements.
A qualifying motorcycle title with your name
Proof of current income
Proof of residence
Motorcycle inspection – in many cases, photos of the sides, front, and back of the motorcycle are sufficient.
Government-issued photo identification – driver's license, state-issued ID, passport, passport card, military ID, etc.
Finalizing Your Loan
The last step in your title loan process it to sign your loan documents and receive the cash. Before you do, we encourage you to review your loan agreement in detail. If you have any questions, regardless of how big or small, don't hesitate to ask it.
FAQs
How Can You Secure a Motorcycle Title Loan With Poor Credit?
Since motorcycle title loans primarily focus on your ability to repay, your credit is not factored in as heavily. Title loan companies care more about the motorcycle's value and an applicant's income.
If you don't repay the loan as stated in the agreement, the title loan company may repossess the motorcycle to get their money.
How Much Money Can I Get From a Motorcycle Title Loan?
The loan amount you can get varies by the value of the motorcycle and your ability to repay the loan.

In the title loans industry, lenders typically offer loan amounts between 25% to 50% of the car's value and may provide up to $50,000 on the same day.
Montana Capital may approve you for up to $ 20,000 or for up to 70% of your motorcycle's current trade-in value.
Is a Bank Account Required for a Title Loan?
Is It Free to Apply for a Motorcycle Title Loan?
Yes – there is no cost to apply for a title loan. For a free quote, apply online today!
The Bottom Line
Motorcycle title loans are an option to get you the money you need asap. They are convenient for emergency situations because cash is paid out quickly if approved. Keep in mind that these loans are meant to provide you with short-term financing to help solve immediate cash needs and should not be considered a long-term solution.
Applying for a motorcycle title loan online through Montana Capital is quick and easy and may give you access to up to $20,000 within 24-48 hours. If maintaining access to your motorcycle while gaining access to short-term financing is important to you, apply online here and get a free quote!