Refinance Title Loan – How Does It Work
How much cash can i get
Find out now. It's fast, secure & free!
A car title loan can be a lifesaver when you're low on funds and need a quick cash infusion. However, once you have the cash you need, you may find yourself wondering if you're with the right lender. High payments and interest rates along with poor customer service may leave you wishing you had made a different choice.
Well, it's not too late. If you aren't satisfied with your loan or how you're being treated, you've got the option to refinance your title loan. Montana Capital Car Title Loans takes pride in its title loan refinance programs, and is known as a company that pays off title loans. In the article below you will learn how to refinance title loan.
What is Title Loan Refinance?
Refinancing is the process of transferring an existing loan to a new lender.
It works the same way as refinancing any personal loan. The remaining balance of the original loan is transferred to the new lender. You'll sign a new contract that will have different terms. You can choose a contract that is more fair, flexible and tailored to your situation.
Refinancing a title loan is not a difficult process. Though it can be time-consuming to research the different loan options that are available. Depending on the terms you have now, the time invested could mean thousands in savings.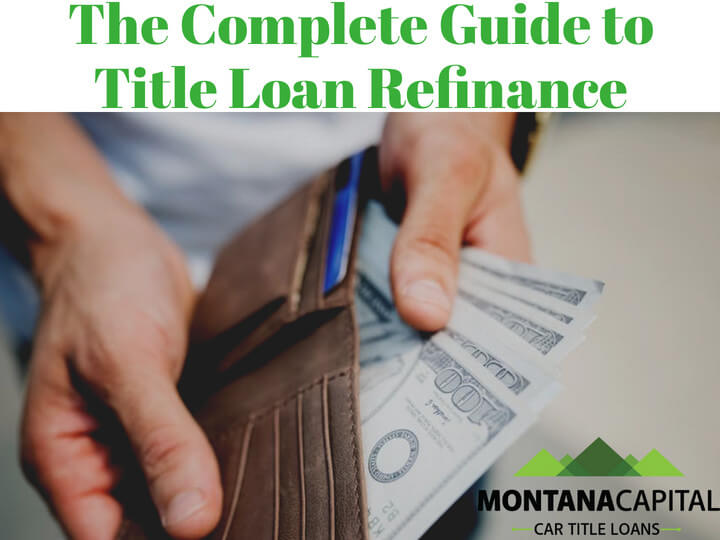 How Title Loan Refinance Works
You may be able to begin refinancing your title loan right away. Make sure that you'll have an easy process by verifying that you…
Refinance Title Loan Requirements
Have possession of your title and the vehicle that you want to refinance
Can prove your identity through the use of state or federally-issued IDs
Can present all year, make, model, mileage and condition information
Are prepared to bring your vehicle to a location for verification and testing
Can identify the name and contact information for your current lender
If you can handle all those items, your new refinanced title loan maybe just a phone call away. Haven't made up your mind yet? That's no problem, but it may be because you're not aware of what's possible. Many people make this choice, and they do it for many reasons.
5 Reasons Borrowers Choose to Refinance Their Title Loan
There are many reasons to choose car title loan refinance. Some or all the following may apply to you.
To make lower payments
Monthly payments are often based on the principal amount of the loan. If you borrowed a large amount, your original agreement will include high monthly payments. After you've had the loan for a while however, the principal will be lower. You can use that lower balance to qualify for lower monthly payments when you refinance your title loan.
While this is a sound strategy, it's important to understand that there are limits. At a certain balance, refinancing may not be possible. Minimum loan amounts vary by state, and California financing laws may apply.
To secure lower interest rates
Each lender uses its own process to choose interest rates. As a result, the rates between different lenders can vary wildly. If you didn't shop around, you may have picked a lender who has higher-than-average interest rates.
If you didn't have great credit when you first applied, that may be the reason for your high interest. If you've worked hard to improve your credit, you may be able to get a better rate now. Call Montana Capital Car Title Loans and say, "I want to refinance my title loan". Our agents will gladly provide some title loan refinance options, if applicable.
To avoid a default
Refinancing your title loan may be a good option if your current loan is unstable for any reason. if you're paying more because of penalties, you may get relief when you refinance your car title loan. You may be able to change the terms that are causing you problems such as payment dates or methods. Even small changes can make it easier for you to pay off your loan.
To enjoy better customer service
You may not be having any problems paying back your title loan. However, you may still be unhappy with your lender because of poor customer service.
Refinancing may be the answer when you can't get the help you need from your current lender.
There are various companies that pay off title loans, and Montana Capital is one of them. We may be able to work with you more flexibly and return calls more reliably. We're located throughout Southern California, so you can easily visit in person.
If any of these reasons appeal to you, it may be time to consider refinancing your car title loan. It's not a difficult process, but you should make sure that you follow the right steps.
How to Refinance Your Title Loan (Step-by-Step)
Filling out a title loan refinancing application is easy. We'll help you through every step. However, there are several steps you'll want to take before you even go in to fill out the papers.
Review your current contract
Before you try to sign a new title loan contract, you need to fully review your existing one. It's possible that you're having problems because your lender is not obeying the existing terms of the contract. Review your contract in full to make sure you're not paying more than is allowed under the terms.
Your loan may also include terms that make refinancing your title loan more difficult. You may be prevented from refinancing by certain terms. Your contract may include fees and penalties for ending your contract early.
Review your credit score
Getting a better deal through refinancing isn't guaranteed. You need to qualify first. That means you must demonstrate the ability to repay. If you have issues with defaults and late payments, it may be difficult for you to qualify for a title loan refinance.
Make sure that you fully review your credit information before you begin your search. Be sure to address any errors by contacting your credit monitoring service. If your credit score has gotten worse since your first loan, you may be unable to refinance. Also, check the loan requirements for anything that may disqualify you.
Explore the options
Montana Capital Car Title Loans is one of the larger title loan operations in southern California. For that reason, we can offer some great options that other companies that pay off title loans can't match. Take some time to look at the different loan options that are available. Find out what rates you may be able to enjoy with the help of the loan calculator. Feel free to ask if you have any questions.
Determine how much you need
When you refinance your title loan, you may have the option to increase your loan. This option is available depending on how much you borrowed against your title in the first place. You are more likely to be able to borrow a higher amount if you have already paid off a large part of your loan.
Apply for title loan refinancing
With every other concern covered, you're ready to begin your application. You know what you stand to gain from refinancing your car title loan and how to choose the best option for your situation. Reach out now with any questions you have.
Why Choose Montana Capital Car Title Loans?
We are a leading title loan company in southern California. For years, we've been offering easy car title loans to people throughout the state. Call today to find out about title loan refinance options and how we can give you the help you need.