Table of Contents
How Much Can You Get With a Car Title Loan
Did you know that you have the option of getting rid of those high interest rates you are paying with your current lender? Montana Capital can offer to get rid of those high interest fees and high monthly payments through a little thing known as a title loan buyout. A title loan buyout, or more commonly known as a title loan refinance, is a great option for you to get better terms on your loan than your current contract offers.
Lowering your monthly payments and interest rates can go a long way in helping you pay off your loan quicker. Remember, the faster you pay off a title loan, the more money you save by avoiding paying more interest on the loan.
Keep reading below to get more information on how title loan buyouts work and how you can take advantage of them to save money. You can be on your way to a brighter financial future.
What Is a Title Loan Buyout?
A title loan buyout, in the most general sense, is replacing your existing loan with a new loan through a different lender. If you presently have a loan with a specific lender, a competitor lender may be able to replace your existing loan. This will mean starting a brand-new loan with different terms, and in many cases, better terms!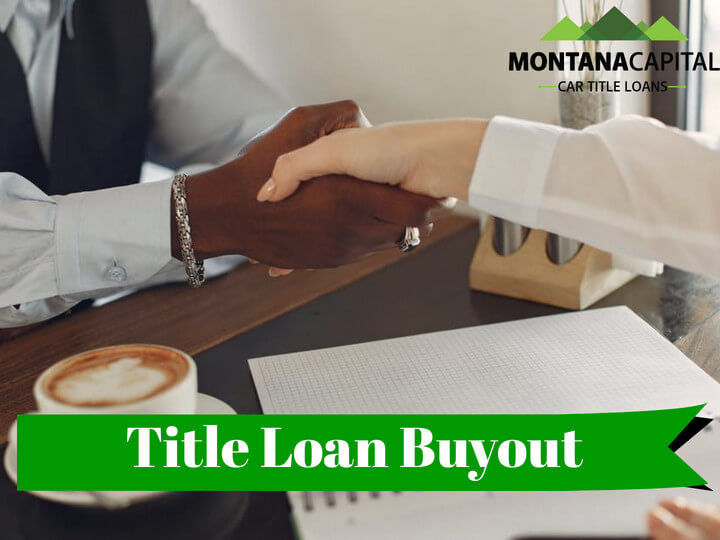 In the case of title loans buyout, the old lender will transfer the vehicle's title to the new lender. This process is usually done between the lenders, so there is no need to worry about how the vehicle's title will be transferred.  Furthermore, your new lender will pay your loan off directly with the old lender, this is common practice in the financial industry. In fact, it is very rare to find a finance company that does not offer a title loan buyout or a title loan buyout online. You just need to find the company with the best loan terms, and Montana Capital Title Loans is your best bet!
Remember, it is most important that during a title loan buyout you receive lower interest rates and lower monthly installments that you previously had. Otherwise, it might not be worth having another company buyout your loan. Also, make sure you know how much you are paying monthly and your annual percentage rate (or APR) when shopping around for a title loan buyout. At Montana Capital, we can do this work for you, so you will not have to lift a finger. We will even contact your current lender and ask them for the current contract terms.
Call us today to get your title loans buyout started!
Title Loan Buyout VS. Refinancing
While the differences between a title loan buyout and a title loan refinance are minuscule, there are small differences between the two.
In both a title loan buyout and a title loan refinance, a lender will pay off your remaining loan balance and start a new loan for you under different terms. However, a title loan refinance is a broader term to describe a title loan buyout and includes different ways to accomplish the same thing as a buyout. Refinancing can include, for example, your current lender offering you to take out additional funds on your existing loan. if you have remaining equity on your vehicle, you might be able to get more money from the same lender you presently have a loan with. While this is indeed taking out a new loan, it does not consist of a new lender paying off your current lender to get better terms on the loan.
For general purposes, we treat both the same. If you need a buyout or refinance, our goal is to get you the best possible terms on your loan. That is the Montana Capital difference!
What Are the Benefits of a Title Loan Buyout?
A buyout has many great advantages, and Montana Capital is the best place to go to take advantage of these:
If you are not satisfied with your current title loan company, you deserve better. Give Montana Capital a call or apply through our website. We assure you we will do everything we can to prove to you why we have one of the highest customer satisfaction ratings in the title loan industry!
Things to Watch Out For
Montana Capital title loans is the best way to go to get a title loan buyout. We offer some of the lowest rates and lowest monthly payments for title loans in California.
Our number one goal at Montana Capital is to create transparency and trust with our customers. Every member of our customer service team is taught to be honest and upfront with our customers about all the terms and costs associated with title loans. We will never try to hide fees or costs from you. With Montana Capital title loans, you will understand all the fees and how much you will pay for the title loan. Let us show you why we are the highest-rated title loans lender in California!
How to Start a Title Loan Buyout
Before deciding on a company to go with for a title loan buyout, you should consider a few things:
Are there companies that do title buyout near me?
Should you consider a title loan buyout online?
What is my current monthly payment and interest rate?
If you chose Montana Capital Car Title Loans for your title loan buyout, we are thrilled! We can offer a title loan buyout on any sort of vehicle whether it is a Car, Motorcycle, RV, or Commercial Truck. We offer title loans on any of these. So, we got you covered.
There are a few ways to start your application for a title loan buyout with Montana Capital:
Give us a call

We have some of the most dedicated customer service representatives in the industry. They will be more than happy to explain how to get started on your title loan buyout. Getting a quote is completely free and only takes a few minutes.

Apply online

Our online application can be found here. It is a 3-step process that only takes a few minutes. You will need to provide your personal information and your vehicle's information. After submitting the application, we will contact you right back and provide you with a free quote.
We will get to work right away on getting you a better deal. Within a short time, you can be on your way to peace of mind and a more stable financial future with Montana Capital.