How to get a title loan without a job
Let's face the truth: sometimes we do everything right yet things still seem to go wrong. This is often the case with financial trouble- you manage your money responsibly yet something arises that sets you back and puts you in an inconvenient situation. It could be because of some high monthly bill, a medical emergency, or simply the rising cost of living. When you're in such a situation, a car title loan can be a real lifesaver. These loans are convenient and available to anyone, regardless of credit score. They are also fast to obtain and have a lower interest than payday loans. And not less importantly, you can get a title loan without a job. Yes, you read correctly. Even if you are not currently working but in need of a pink slip loan, you can still get it as long as you have a consistent income and show proof of an ability to repay the loan.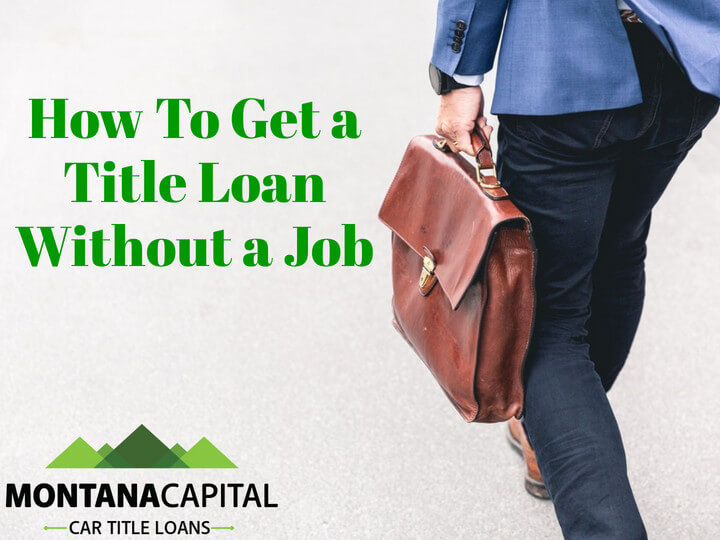 Montana Capital has been serving customers across California for over 10 years and we have plenty of satisfied customers just like you who got title loans with no job. If you're looking to learn more about our title loan process continue reading to learn how to get a title loan without a job.
Can I get a title loan without a job
If you're looking into borrowing money with a title loan, you may very well be wondering "can I get a title loan without a job?" and the short answer is YES! Car title loans are meant to provide an easy solution for those who can't get money through traditional lenders. It is often the case that these types of lenders only look at your credit score and if it is too low you are automatically rejected.
Luckily, that's where title loans come in: we provide fast cash loans based on the equity of your vehicle and your ability to repay the loan. That means that we first evaluate how much your car is worth to determine the approximate loan amount you will be able to receive. We check the year, make, model, and condition of your car for this. We then look at your income in order to verify you will be able to pay back the loan properly.
However, the best thing about title loans is that we don't require you to have a job or show a paycheck for this proof of income. Instead, you can provide recent bank statements which show steady deposits, disability payments, or even a letter from a near-future employer if you are in between jobs. Our loan experts will review your application holistically, meaning they will approve you based on multiple factors and not just your credit score. So even if you've previously been through bankruptcy or don't have that perfect credit rating, you can still get approved for a loan with Montana Capital Car Title Loans.
Requirements for getting a title loan without a job
Are you not sure about what you actually need for a title loan without a job? That's completely fine, we're here to help you get through the process. It's actually very simple and straightforward. We require the following items in order to get you a title loan:
Personal Details

As with any loan, you will be asked to provide personal details such as date of birth and phone number, amongst other information. This allows us to verify your identity and approve you for funds.
Car information

Because our loans use your vehicle as equity, you will be asked to provide the basic car information such as the year, make, model, and mileage driven.
Valid ID

You must be over 18 in order to get a title loan with Montana Capital. We will request that you provide an ID in order to verify this and other details on the loan.
Registered owner

You must be the rightful registered owner of the vehicle which you are using for the loan. This means that you should have the car title and your name should be on it. If you are buying a car, we can help you get the vehicle transfer completed.
Ability to repay

You must show an ability to repay the loan. As mentioned, you don't need to show pay stubs from a job but we must make sure that you are able to repay your loan properly.
References

In order to guarantee the loan, we also request five references that include the name, relationship, address, and phone number of the people you choose.
The above requirements are the basics in order to get you approved and funded for a title loan. In certain cases, you may be asked to provide further documentation, like proof of insurance.
Getting a title loan online without a job
One of the best things happening in the loan industry in recent years is the way lenders are making loans more accessible to all. You may live in a city where there isn't a title loan branch or you simply may be too busy to go into an office just for an application. For these reasons exactly, we've created our online loan process. It's an innovative change that puts our customers at the center of our business.
To get started, all you need to do is fill out our online application which only takes a few minutes to complete. From there, one of our professional loan agents will contact you to get you going on the rest of the process. So even if you're not currently employed, you can still get online title loans with no job. The advantage of this simple process is the fact that you are getting everything done faster while enjoying the convenience of your own home. Remember to make sure you are choosing a trusted lender with a secure site before entering your details. Online loans are one of the best answers as to how to get a title loan without a job!
Apply now for a title loan without a job
So can you get a title loan without a job? Yes! Can it be simple and fast? Yes! By applying with Montana Capital Car Title Loans you are choosing a lender with years of experience and thousands of satisfied customers. We want to make sure that the title loans we provide fit your needs and help you feel comfortable during a difficult financial time. We have the most professional employees who assist you throughout our streamlined process so you can get your money fast! Let us help you get the peach of mind you deserve with a car title loan from Montana Capital.
If we still didn't answer all of your questions and you're still asking "can I get a title loan without a job?", give us a call and one of our dedicated agents will be happy to assist you!