Available for all credit types 

Keep driving your car

No hidden fees
Express Registration Service provides registration services for Montana Capital Car Title Loans customers. The store is located at 1941 Mitchell Rd Suite E, near the intersection with Fowler Rd. If you live in Ceres and in need of registration services, stop by Express Registration Service that works with Montana Capital Car Title Loans in Ceres. Express Registration Service provides our clients with unmatched customer service. Montana Capital Car Title Loans does not issue loans at this location.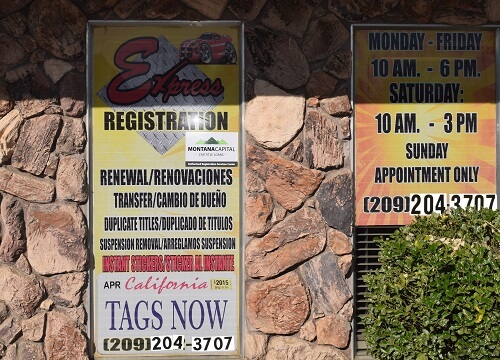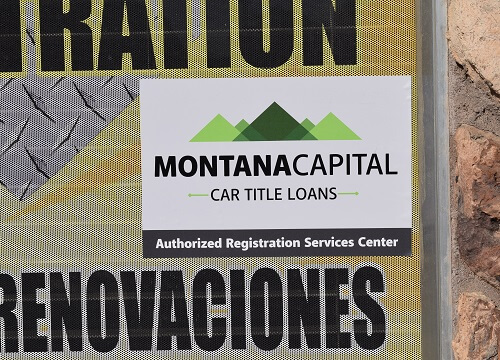 Beautiful Ceres, CA is named for the Roman goddess of agriculture. The city was founded by Daniel C. Whitmore, who was the first family to settle in the region. In 1870 he built his house in the city, which was called the Whitmore Mansion. Fully restored, the home still stands at its location on 5th Street today. Its complete restoration and upkeep is handled by the Ceres Historical Society. The city residents look forward to the many annual events that happen year-round, including the Halloween Fun Festival, the opening of Christmas Tree Lane and the summertime Concerts in the Park.
The annual festivals and parades are fun while they last, but when you're back at home and have bills to pay the excitement of the events can quickly be replaced by money worries. Living in Ceres can be pretty stressful if you don't have the necessary cash to pay your bills or to keep on top of monthly payments. That's where Montana Capital Car Title Loans in Ceres comes into the picture. If you have a private car that you own, and your name is on the car title, we might have money for you! We will evaluate your vehicle to find out if we can use it as collateral for a quick loan. If you are one of the lucky recipients of a car title loan, you can use the money in any way that you want to.
Send in your request for a car title loan to Montana Capital Car Title Loans in Ceres so that we can check out the value of your car. If it's high enough, if you can prove your ability to pay a loan and if you fit into our credit specifications, we might be able to prepare a loan beginning at $2,600. Send in the online form at your convenience and let's get started! Don't worry if your credit status is poor because that doesn't mean you won't be able to get a car title loan.
Use your car title loan to give you a break from money issues. Our name will be on your car title while you make your convenient monthly payments. When the contract with Montana Capital Car Title Loans in Ceres is finished, the title will be returned to you.
Get cash from Montana Capital Car Title Loans in Ceres!