Montana Capital Car Title Loans in Perris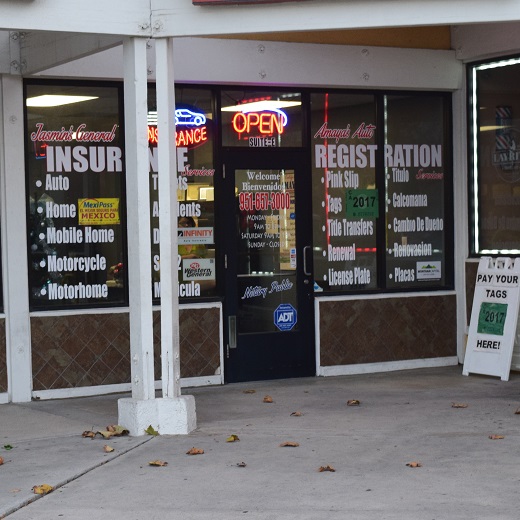 What Our Clients Say
It was a good decision for me to apply for a loan through them to place a lien on your car title. It was a great experience! My loan was disbursed in a few days, and I was informed about the progress.
Harry Potter
12:18 12 Oct 21
It is a very nice place with excellent customer service. They were so helpful and friendly with my loan...
Lisa Jaida
10:55 02 Jul 21
Very polite and helpful staff. Always there to help you and greet you on entry, never had a bad experience in all the years I've been going. They helped me to get the best deal on buying a car with no credit.
leila hadley
11:44 03 Jun 21
I knew what I was getting myself into with this loan but still it's nice to know you are working with a decent company that is trustworthy and professional.
Omar Ginthher
17:20 27 May 21
Incredible customer service!! Thank you MCCT Loans!! Highly recommended to anyone!!👌👌😍
Nathanial Merwin
17:16 27 May 21
They took the time to help me understand the process and all of my options before I even got pre-approval. 5 stars service all around from everyone at Montana.
Miracle Crystal
08:47 28 Apr 21
Montana Capital made the loan financing process a breeze. Which is saying something! I have already recommended a co-worker to Montana Capital and will continue to do so.
Baron Gilbert
16:29 16 Mar 21
The best in the business. They made the process so seamless and easy from beginning to end. Montana Capital are the best in and around the peris area.
Hattiein Payneman
02:21 13 Feb 21
I appreciate that they provide quick cash title loans that don't take days or even weeks to obtain. I needed emergency cash and I got what I was looking for here.
Helen Petterson
04:32 21 Dec 20
Kiel at Montana Capital is amazing give that man a raise!
Sheldon Williams
03:06 17 Oct 19
Great place to get you back in your feet. Kiel at Montana Capital is always so professional. Thanks guys for all the help.
Michael Carpenter
21:13 12 Oct 19
David Fuentes
21:19 11 Oct 19
The customer service agent Keil , is always very knowledgeable and friendly. He goes out of his way to make sure I understand what I am paying and why. I have had negative experiences with another representative at your company. I think Montana capital needs to hire more individuals like Keil or have him train new employees. Thanks !
Gunnar Weber
17:23 17 Apr 18
About This Location
Amaya's Auto Registration Services provides registration services for Montana Capital Car Title Loans customers. The store is located at 135 W Nuevo Rd Suite E, near the intersection with N Perris Blvd. If you live in Perris and in need of registration services, stop by Amaya's Auto Registration Services that works with Montana Capital Car Title Loans in Perris. Amaya's Auto Registration Services provides our clients with unmatched customer service. Montana Capital Car Title Loans does not issue loans at this location.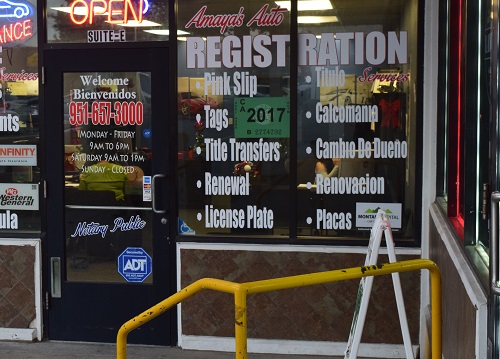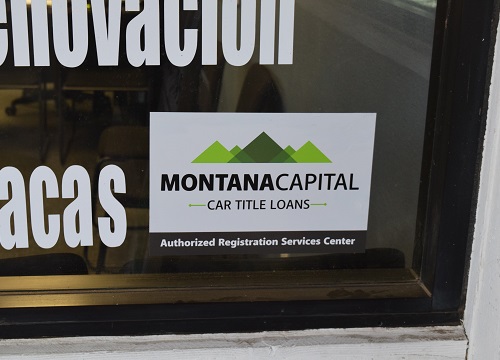 Early History of Perris, California
Perris, California was settled during a boom period that California experienced the 1880s. Before that the region was used as pasture for the animals to graze on. But when the California Southern Railroad put in a new depot in the region, the population began to increase and the new city was founded. However, there was a bit of a fight over the land and so most of the residents moved two miles away, where they established Perris. They gave their new city its name as a tribute to Fred T. Perris, who worked at the railroad as the chief engineer. In 1911 the city was finally incorporated into Riverside County, even though it had originally been a part of San Diego County.
Making Money in Perris
Anyone living in Perris can find a lot of things to do, with all the great amenities close by. But the only problem is that everything costs money. And if you don't have enough money, then it can put a real damper on being able to go out and enjoy life. You might even be feeling pretty stressed out with bills that are coming due, purchases to make or rent to pay. Reduce your stress level and enjoy your surroundings by sending in your application for a car title loan. At Montana Capital Car Title Loans in Perris, we prepare fast loans based on the value of a car that you own.
Getting Quick Cash
With car title loans, you can use the money for whatever urgent needs you have. Just send your request to Montana Capital Car Title Loans in Perris so we can evaluate your situation. If the vehicle that you own has enough value, you can afford to make the loan payments and you fit the credit criteria that we have, then we will contact you. Even bad credit applicants can be approved for auto title loans.
Cash and Cars
If your loan is approved, you'll be getting anywhere from $2,600 and up, but that doesn't mean you have to hand over your car. It's yours to keep, but we'll put Montana Capital Car Title Loans in Perris on  your car title as lien holder. Once you have your money, you can still drive anywhere you want! And better yet, you'll even have money you can use to put gas in your tank!
Apply for cash now!
Near Locations