Montana Capital Car Title Loans in Ontario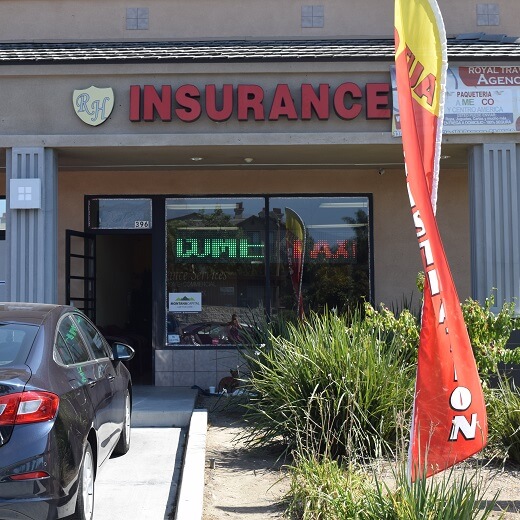 What Our Clients Say
Excellent service and super quick. If you're looking for no hassle, this is the company to go with. Fast, simple, and flexible. Consider them if you need a loan.
Jared Hayes
10:09 18 Oct 21
It's extremely simple and convenient. They have a fantastic network of lenders with whom they collaborate. Even if you start comparing yourself to others, it will take a long time for you to achieve what they have.
Judah Alayna
14:49 28 Jun 21
Thank you so much for helping me in getting the fast payday loans. The people helped a lot in getting things done for me. Highly recommended services.
Landon Kane
08:37 14 May 21
They hooked me up with an awesome loan when no else would. I was ready to give up but then found Montana CTL and they restored my hope for a better financial future. You can totally trust them.
Antwan Rylie
23:11 16 Mar 21
The entire process was painless and easy!! Had a very nice experience with Montana CTL!!
Jacque Shinn
18:19 09 Mar 21
Very communicative and quick to respond. They were always willing and able to answer any and all questions I had for them.
finch alexis
11:39 12 Feb 21
Lucky for me that I can use my bike to cover unexpected expenses. I don't know where else I could get money from so quickly.
Glenda Roman
11:33 30 Dec 19
They are very helpful and got me approved in minutes especially Ivan. Ivan has good customer service skills and he is very honest and he followed up with me during the whole time. If you contact them ask for Ivan he is amazing.
Kami Johnson
00:13 10 Jan 19
They were very helpful and even stayed open late for us
mr hoddine
03:13 30 Nov 18
Prompt ,Profesional,friendly and accomodating.I had a little hiccup called Super Sonic @10:30am arrived @12:15 had a check by 1:30 Awesome!!!
Michael Djokovich
20:56 06 Apr 16
I needed a loan, and they delivered. Everyone was soo nice, and helpful. Even went above and beyond what was expected as far as customer service goes. I would recommend this company to anyone who's in a right financial situation. These guys will help!!!
Maggie Baker
02:51 29 Mar 16
Great custumer service. Highly recomended
Jessica Alvarez
02:36 02 Feb 16
I needed cash fast and Super Sonic approved me right away! They have great customer service and remained professional, I will definitely recommend them to anyone in need of a loan. I'm so happy they were here for me!
Ebony Bullock
18:31 31 Oct 15
They were really nice and helpful , they walk you through everything , and offer an amazing service . Love this place Very helpful
krystal moreno
02:15 01 Oct 15
About This Location
The E Holt Blvd. Montana Capital Car Title Loans in Ontario Branch has been providing the residents of Ontario with car title loans since June 7th 2017. We rent a space inside the store of Next Generation Insurance. The store is located at 396 E Holt Blvd. between E B Street and E Transit Street. If you live in Ontario and in need of quick cash, stop by the E Holt Blvd. Montana Capital Car Title Loans in Ontario Branch. We are providing all our customers with unsurpassed customer service.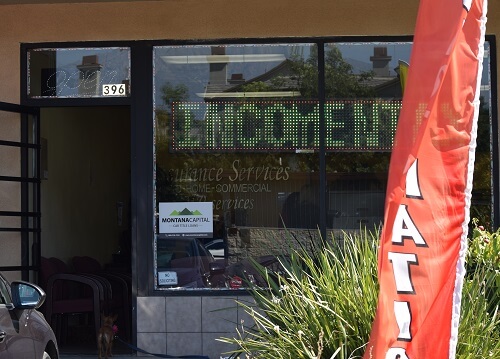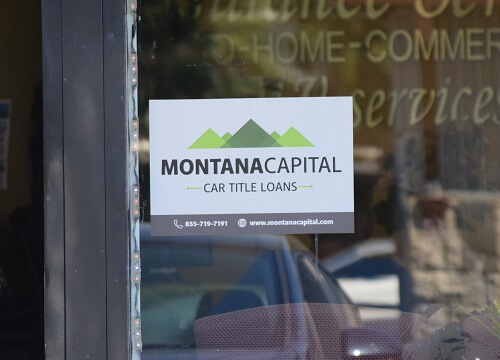 About Ontario
Ontario CA, which is in the southwestern area of San Bernardino County, is only 35 miles from Los Angeles. When brothers George, William and Charles Chaffey established the city in 1882, they named it after their home town of Ontario. The city gained a reputation as a health resort early on, but later the rocky soil was used to plant citrus groves. Other agricultural endeavors include growing olives. The Ontario International Airport is the 15th busiest of all airports in the US, according to cargo that is transported. It is the former home of Ontario Motor Speedway and is the location of the Ontario Mills.
Extra Cash with Auto Equity Loans
Ontario CA is of course a good deal warmer than its Canadian namesake and we like to think that the Californian warmth has permeated the way we work as a company offering car title loans in Ontario CA. The qualification for these loans is meeting our pink slip loans credit criteria. This includes, among others, having a car in your ownership and the paperwork that proves it. And of course, having the ability to repay the loan. Check our website for details of how you can get secured loans starting from $2,600 using your car as collateral.
Auto Title Loans
The beautiful thing about getting loans from Montana Capital Car Title Loans in Ontario, CA is that they are convenient to apply for. There's no need to go into a loan office halfway across town during working hours, sit in a line with other people and then explain your needs to a financial officer. Instead, just open your computer, spend some time filling out the form and send it in to us. Voila! That's all there is to it! One of our qualified staff members will look over your details and get back to you regarding your situation. No matter what your credit background is like, it doesn't necessarily affect your ability to get a car title loan if you can make the payments.
Can I Get A Title Loan Without the Title?
To get a title loan, you'll need to be the owner of your vehicle's title. However, if you don't have the physical title, we can potentially help you with getting a duplicate one.
Do title loans have an effect on my credit score?
So long as you are making your loans payments when they are due, title loans don't have an effect on your credit at all.
How Long Does It Take to Apply for A Car Title Loan?
It takes only minutes to evaluate your qualifications for a car title loan. Give us all the necessary information and one of our customer service representatives will get back to you regarding your qualification for a car title loan.
Keep Your Car
Throughout the loan period, your car is yours to keep with you and drive it as usual. Since Montana Capital Car Title Loans in Ontario uses your car as collateral for the loan, there is no need to give it up while making your monthly payments according to the contract. This makes it easy for you to continue working and earning money while paying back the monthly title loan payments.
Nearest Locations