Montana Capital Car Title Loans in Chino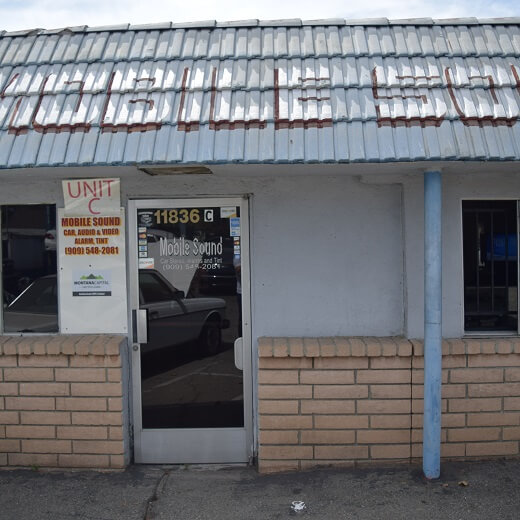 What Our Clients Say
I need and online pay day loans and they confirm my loan within few hours of applying for the loan. Thanks to the team for their effort and I am able to pay some of my dues on time👍
James Erickson
06:33 30 Jun 21
The team was so polite and punctual. Every member of the team behaves manner fully. You can connect any one of them. My concern is that I needed a loan with a less interest price. I called them and asking the whole procedure for a loan. The instant answer me and providing the loan. Nice place to get fast title loans near me.
Jack Taylor
17:57 02 Jun 21
Their team is efficient and I would recommend them to others. They have a big group. I would definitely use them again in case I were to repeat this process once more. I am very please with the whole team to get a title loan online.👍👍
Awesome working morals, incredible client support, and the most veritable individuals I have at any point found in the credit business. I settled on some great decisions and got easy loans for bad credit. God favors all of you and may all of you flourish.
Jack L. Camarena
07:46 25 May 21
Montana Capital CTL in Chino were easy to work with and overall did an awesome job on our bad credit title loan.
Joseph L. Berkowitz
05:06 05 Mar 21
Montana is incredible company to work with! Great communication all the way through the loan process. One of the many reasons I work with them is because they are able to close loans faster than I've seen!
economy membership
13:00 09 Feb 21
The lending process in Montana Capital Car Title Loans Chino was unbelievably fast.
Edward Mitchell
11:09 05 Mar 20
At Montana Capital Car Title Loans in Chino I don't have any problem with getting a no credit loan when I need fast cash.
Rose Vitela
05:05 19 Feb 20
Very helpful and detailed.
Joseph Williams
17:18 03 Apr 19
They were quick and professional.
Angela Jordan
21:34 28 Dec 18
Awesome service thanks kiara
Arshad Almashhadani
20:02 02 Aug 17
About This Location
Mobile Sound provides GPS installation and removal services for Montana Capital Car Title Loans customers. The store is located at 11836 Central Ave, near the intersection with Carmen St. If you live in Chino and in need of installation or removal of GPS device, stop by Mobile Sound that works with Montana Capital Car Title Loans in Chino. Mobile Sound provides our clients with unmatched customer service. Montana Capital Car Title Loans does not issue loans at this location.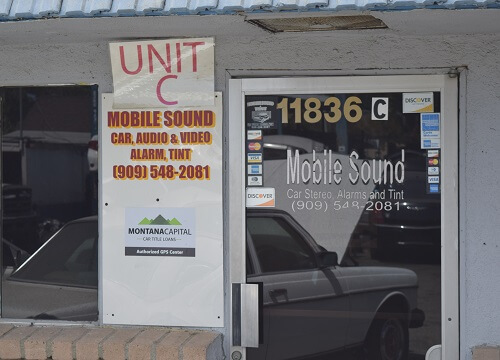 About Chino
It took dairy farmers from Holland to make Chino, California the biggest milk-producing town in America's biggest milk producing state! Chino dairy products were marketed not just in the Chino area, but throughout most of California and the entire southwest United States. But Chino wasn't limited to dairy. Sugar beets, alfalfa and sweet corn were raised in Chino as well. The corn was sold up and down the Pacific coast region and known as "Chino corn." Proximity to Hollywood and the town's rural atmosphere work well to make Chino a favorite location for movies with "Midwestern" and other historical settings.
Keeping Your Head Above Water in Chino
Sure, Chino's a really beautiful, rural setting for movies, but in real life it can be hard to keep your head above water. What with all the bills, expenses you weren't prepared for and repairs on the house you need to make before the rainy season hits. Well don't worry, because if you own a car you might be able to get some financial help from Montana Capital Car Title Loans in Chino. There's a request form at the bottom of this page you can fill in and send to us. If it looks like we can pre-qualify you for a loan of at least $2,600, we'll happily get in touch with you!
How To Apply
Montana Capital Car Title Loans in Chino use your car as collateral to give you a car title loan. Once we get your request form in our office, we'll go over your details and then we'll get a professional and up-to-date appraisal of your car. If your vehicle has enough value, if you can prove that you'll be able to pay back the loan and if you fit in line with our credit criteria, we will contact you to set up a meeting. But don't wait! You can start the process now from home by sending in your online car title loan application.
How To Apply
Once you're approved for a loan from Montana Capital Car Title Loans in Chino, we'll put our name on your car title as a lien holder of your car while you pay us back. When you're finished, you'll get a clean and fresh car title. You get to keep your car during that time, so what you really get is cash and your car!
Apply for cash today!
Near Locations