Sometimes it can seem like there's no way to get through a month without a little extra cash to spend. Or there can be sudden expenses that were not expected, urgent repairs on your home, or even credit card bills that are coming due. These are problems that can happen to anyone, but it's good to know that for people living in Indiana, Montana Capital Car Title Loans can be an option. It's pretty simple the way car title loans work. If someone owns a car, under certain conditions the value of that car can be used as loan collateral. It's a quick and simple way to get access to fast cash, without spending a lot of time filling out forms or wading through red tape. You won't have to wait a long time for the loan to be processed and when you do get the money, you can use it in any way that you please. There are no restrictions on how you use the money, so whether it's a quick trip across the state or extra money to put food on the table, it's totally your choice.
Serving You Across The US
Montana Capital Car Title Loans serves applicants from more than 30 States! By connecting with a trusted lender, we help people apply for a title loan safely and quickly. Call us now and let our support team guide you.
Fast Online Auto Title Loan Applications
Our customers love the easy way they can send in their online applications to us. One of the best advantages to that is they don't need to make an appointment with a loan agent, they don't need to get in the car and hassle with traffic and there are no set hours. How can all of this be possible? By going online and filling in our simple application form. The beauty of the internet is that it is open all the time, day in and day out. At your own convenience, you can open your laptop, smartphone, or computer to complete the short application. You'll need to supply us with your details and the type of car that you own. Those details include the model of your car, its year, the number of miles it's been driven, and what kind of condition it's in. That's what the lender needs in order to check its current value in today's market.
If your car has enough equity, the lender will go on to check out other qualifications. They are basic specifications that include monthly income that is enough to be able to pay back the loan, meeting regular credit requirements, and having a current and updated car title with the owner's name clearly written. Once these are pre-approved, you can get an offer for a fast auto title loan. We always recommend that our customers read the contract carefully to understand the exact terms of the loan before signing. In addition to signing the loan agreement, it's also mandatory to submit the car title to the lender until the loan has been repaid.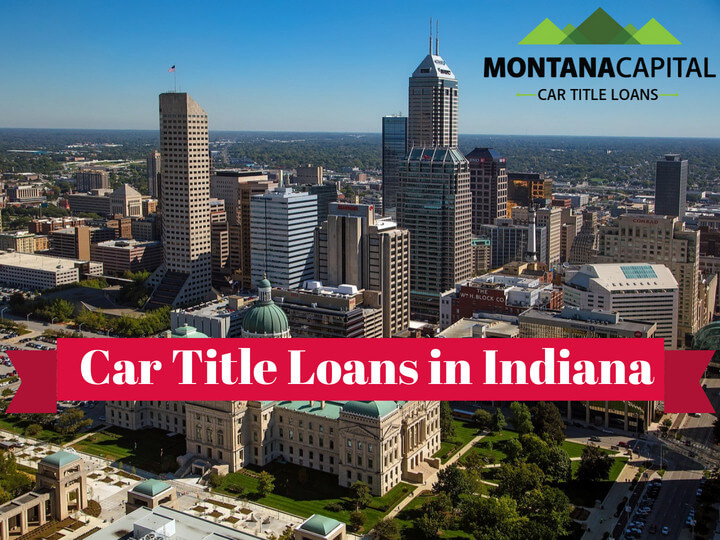 How Montana Capital Car Title Loans Work
Car title loans are fast because they are a type of equity loan that uses a valuable asset that you own as collateral. In this case, they use your car. If you own a vehicle that has equity, you can apply for an auto equity loan. Since the problem of loan security is taken care of, the actual loan process can go through quickly. These loans don't take your car but are able to use its value only. Your car can stay with you while you make the monthly loan payments. At the end of the loan period, when all the payments have been made according to the signed contract, your car title will be returned to you,
The good thing to know about fast car title loans in Indiana is that our customer service is here to help you get going. We can help answer questions and explain the steps to you if needed. If you're new to this, you might have questions about how the process works. If you've taken out car title loans before, we can help you in any way needed. Don't hesitate to contact us!
Variable Credit Status
It's a fact that not everyone has a perfect score, but that doesn't mean they are not eligible for car title loans. The loan clerk will look into your credit background and current credit score. Even if your credit history is bad, you can sometimes still be pre-approved for auto title loans. That's because your current financial situation is oftentimes more important than your past credit history. If you went through some difficult times due to lack of work, an illness, or you were between jobs, it's understandable that you might not have been able to keep your monthly payments up. When your payments are turned in late, that has an immediate effect on your credit score. It's very important to send in payments on time. Besides your credit status, if you are earning a high enough monthly income, you meet other credit criteria and your car has enough value you can still be approved.
Getting Your Cash Loan Quickly
We don't think you should have to wait a long time when you need money urgently. That's why we do our best to help you speed through the application process. Take advantage of our streamlined process to get quick help from our customer service agents and a prompt reply from a lender who pre-approves your application. When you sign a loan contract and submit your car title, you won't have to wait long at all to get the funds. When the cash is ready, the lender will let you know exactly where to go to get it, or, if preferred, it can be mailed to your home. Choose the option for getting the money that is the most convenient for you.
Now that you have the money you need, spend it in any way that is suitable for you. There are no restrictions, so go ahead and pay your debts, buy something you need, or put some away for a rainy day! How you spend your money is only your choice. Let us hear from you today at Montana Capital Car Title Loans so we can get started with your loan today!