The Complete Guide to Title Loans In Illinois
The easiest way to secure quick funds in Illinois is through title loans.
If you have a car you can set as collateral, then the benefits of getting a title loan will be even more favorable.
In this article, you can expect to learn about EVERYTHING there is to know about a title loan in Illinois.
Let's get to it!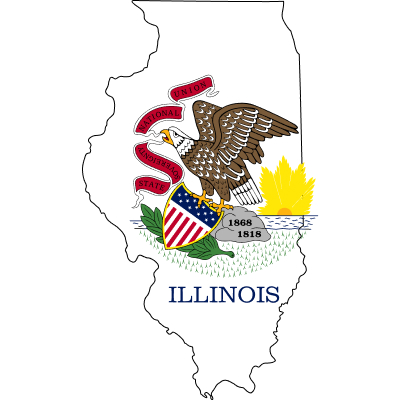 Illinois, known as "The Prairie State," features a simplified version of its state seal on its flag, symbolizing the state's heritage and values.
---
What Is a Car Title Loan?
A car title loan is a short-term loan that uses your vehicle's title as COLLATERAL.
You've probably heard of its common names too:
Auto Title Loans
Vehicle Title Loans
Pink Slip Title Loans
Title Pawns
All of these terms refer to the SAME TYPE of loan.
They are NOT to be confused with auto pawns, which require your actual vehicle to be used as collateral.
A title loan will ONLY request your vehicle's title. Repossessions will only take place in the instance that non-payments are made on time.
Needless to say, title loans are often used to settle finances of various natures:
Emergency Funding
House and Utility Expenses
Hospital and Medical Bills
Credit Card Payment
Loans and Debt Payment
The quick-natured returns of the auto title loan make it a favorable choice for additional funding.Especially so when faced with a need for unexpected emergency funding.
What Sets Car Title Loans Apart From Other Loans?
A title loan is a GREAT ALTERNATIVE to traditional bank loans.
Of course, because of the CONVENIENCE, having a vehicle is the primary assurance for future repayments.
Car title loans are POPULAR for a couple of other reasons:
Quick and easy process to undergo for approval
No required credit check to assess payment capability
Loan value dependent on the vehicle value
Lower interest rates than other short-term loans
In short, an auto title loan offers an INSTANT CASH ADVANCE that you would usually have to pay within 30 days.
Oftentimes, these options are more affordable than payday loans, too.
Just remember that you can ALWAYS negotiate your loaning terms with your chosen lending company.
The best lender will always consider your capabilities FAIRLY when deciding on the repayment terms.
How Do Title Loans in Illinois Work?
The Illinois Department of Financial and Professional Regulation regulates car title loans in Illinois.
You basically have nothing to worry about. The title loan process is entirely legal.
But of course, you wouldn't want to go into loan negotiations blindly, right? Luckily, you have to learn about just a couple of basics.
Applicant Eligibility
To be eligible for a title loan in Illinois,you just need to fulfill these two conditions:
Resident of Illinois
Registered and Rightful Owner of a Vehicle
Fit these conditions? Then good news!
You will be able to submit a valid loan application to your chosen loaning company.
But before that, do your research on what you plan to negotiate for.
Rates and Terms for Title Loans in Illinois
Minimum Loan Amount: $100
Maximum Loan Amount: $25,000
Average APR: 25.00%
These are the usual rates you will get from title loans in Illinois.
You can get more OR less than these amounts in the same way you can negotiate for your loan repayment periods.
This short-term loan scheme does its best in meeting your needs and capabilities halfway. So, make sure to do your research and NEGOTIATE FAIRLY.
A Step-by-Step Guide on How to Apply for Title Loans in Illinois
Let us run you through the entire procedure of securing car title loans. Don't worry! It's not as difficult compared to other loan types.
Just follow these 4 steps, and you should be good to go.
Step 1: Submit Application Form
The first thing you should do is SEARCH for the best lending company for you.
Factors for you to consider should be the following:
Fair Payment Terms
Competitive Rates
Testimonials from Clients
Company Registration
Once settled, simply fill out an application for online title loans.
These forms will just ask for your personal data and information about your vehicle.
Make sure to BE TRANSPARENT WITH YOUR LENDER as you share your terms and conditions. Once pre-approved, you will now be able to prepare for the next steps of the process.
Step 2: Provide Necessary Documents
Remember: credit checks are NOT ALWAYS going to be conducted.
This is why your application should be fully supported by pertinent documents that will prove your financial capabilities regardless of credit status.
Required Documents
These VERIFY OWNERSHIP of the vehicle to be loaned.
Clean Vehicle Title
Updated Vehicle Registration
Government-issued ID (Driver's License)
Proof of Residence in Illinois
Proof of Income
Supporting Documents
These STRENGTHEN your application.
Though not always required, it will always be best to have these documents ready:
Bank Account Details
Character References
Latest Payslips or Income Statements
Photos of Vehicle
Key Duplicates
Always consult with your lending company about their requirements.
Lenders in Illinois will ask for different sets of documents depending on their protocols.
Likewise, some title loan companies in Illinois might require you to report physically in their store. This is to inspect your car for valuation.
Step 3: Claim Instant Cash
After being pre-approved, the next thing to do is just WAIT.
Your title loan agent will reach out to you by call or email with a guaranteed offer.
You will then be able to choose the AVENUE through which you can receive your title loan in Illinois:
In-Person
Wire transfer
Bank transfer
Direct Deposit
Financial Services Companies
Moving forward, review and sign your documents for instant approval.
Receive your cash advance from your Illinois lender, and you'll be free to use your car as you always have.
The process is that easy!
Step 4: Settle Loan Repayment
Of course, you should NEVER forget to settle the payment of your borrowed money.
You can settle these in any provided avenues that lenders in Illinois specify.
NEVER miss out on your repayments for TWO REASONS:
Timely disbursement of your money
Repossession of car titles suspension
A title loan in Illinois can easily help secure your needed cash loans. However, don't abuse this and do your part of the business, too.
Illinois car title loans work as simple as that!
Credit Checks and Car Value: How Is the Loan Amount Determined?
The beauty of pink slip title loans is that a credit check will not ALWAYS be required.
See, title loans are SECURED LOANS. This means that the collateral value determines the loaned amount.
By not depending on credit checks, you will only have to provide the following:
Basic Information About Your Car
These are the factors that determine the value of your collateral:
Vehicle Mileage
Vehicle Condition
Brand and Make
Year of Manufacture
Basic Information About Yourself
Don't worry because no sensitive personal information will be required from you:
Contact information
Proof of residence
Source of income
Income doesn't also always have to mean employment.
Cash payments could come from social security, self-employment, disability pay, and other related business.
See how easy the process in Illinois is?
Just ensure that you have valuable collateral to cover the costs you need for a cash advance.
Choosing the Right Car Title Loan in Illinois
The one piece of advice that you should follow is to choose the right one for YOU. Know what you need, and know what you can pay back.
1. Loan Requirements and Terms
You should AGREE with the terms your lender presents.
Look for a good deal that offers the following:
Payment period that you can follow
Justifiable upfront fees
Competitive interest rates and average APR
2. Company's Reliability and Reputation
The perfect lender in Illinois for you should also have the following qualities:
Straightforward application process
Favorable client reviews
Public portfolio
The MAIN TAKEAWAY?
Don't go into business with a title loan company in Illinois that makes you question any of their protocols.
3. Repayment Options
As established, your payment terms should be what your current financial status allows.
Your title loan should ease your financial burden and NOT add to it. Settle all these with your lender, and you'll be good to go.
FAQs
Before we wrap up, allow us to tackle some questions you might have to avoid any confusion or misunderstandings between you and your lender.
That way, you'll have a smooth and hassle-free application.
Can I Still Drive My Car Around Illinois?
Yes!
This is one of the main conveniences of getting a car title loan.
As the title loan will ONLY have jurisdiction over your car title, you will still be able to continue driving your car.
The important thing to do is to ensure that you continuously make your payments towards your loan repayment.
You will receive your title back from the lender ONLY once the loan has been FULLY repaid.
Will a Car Inspection Be Conducted?
Yes, this is necessary to estimate your collateral's value ACCURATELY.
However, Illinois lenders don't always require you to BRING IN YOUR CARS PHYSICALLY.
Inspections can be done online, given the comprehensiveness of your submitted documents.
How Much Money Can I Borrow?
In Illinois, auto title loans can grant you anything between $100 - $25,000.
This amount will depend on TWO THINGS:
The value of your vehicle
The strength of your application
Assessment of your application will consider your ability to seal the deal with a completely paid loan.
This will now depend on your agreed-upon period terms and interest rates.
What Are Other Alternatives to Title Loans in Illinois?
You can choose among a variety of other options:
Short Term Loans (Bank, Credit Union, Payday Loans, Installment Loans)
Credit Card Alternatives (Visa Card, MasterCard, American Express, Cash Advance, etc.)
Cash Loan Alternatives (Other Loaning Companies With Different Collaterals)
Pawn Shops (For Various Collaterals)
However, these options often have HIGH interest rates and additional fees.
These alternatives are also more likely to consider your BAD CREDIT scores than title pawns.
Apply for a Title Loan in Illinois Right Now!
Car title loans in Illinois are SIMPLE and, most of all, CONVENIENT.
With just a few documents to prepare, you can be instantly guaranteed quick money for your funds:
Clean Vehicle Title
Updated Vehicle Registration
Government-issued ID
Proof of Residence in Illinois
Proof of Income
Applications are processed fast, and the pay rate is excellent.
More importantly, you LOSE NOTHING by simply putting your vehicle up as collateral.
You'll be in good hands as the state of Illinois ensures to protect consumers while providing accessible loan options.