Montana Capital Car Title Loans in Garden Grove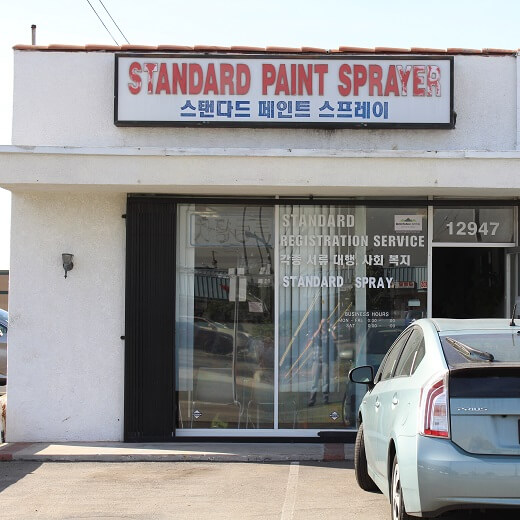 What Our Clients Say
This company has been so easy to work with and so straightforward to apply for the payday loans bad credit. I'm very happy with the financing rate. I'd highly recommend this company for great rates and the most helpful service.
Gladys M. Green
12:26 08 Oct 21
I received an awesome loan for a personal loans that I obtained a few months ago. Their team is quick to respond, and is ready to help even after your loan is disbursed.👍
trinity ruby
08:33 03 Jun 21
They have provided me with great loan I took out 2 months ago. They work promptly and they are ready to assist you after your loan disbursement.👍👍👍
juliette valentina
08:30 03 Jun 21
Thanks to them, I received the best deal on a auto refinancing with MCCTL when I needed it. They provided a quick home service, and my loan was approved in only one day. 👍👍
summer maya
08:22 03 Jun 21
They were able to give us a great rate and were very competitive with the monthly payments. Very happy we selected Montana Capital Car Title Loans to help us with this loan during the pandemic.
Carolyn Clark
13:48 28 May 21
My wife and I have used Montana Capital twice now. Fantastic company to work with. Their staff are extremely knowledgeable and will do WHATEVER it takes to meet your financial needs.
Kaylen Frankie
23:15 11 Mar 21
This company was recommended to us by two separate friends and also family members. Everyone told us that Montana Capital are masters of title loans and I must admit we were not disappointed!!
Ludie Voss
06:07 08 Feb 21
The staff at Garden Grove are so helpful! Whenever I have any small issue I just call and always receive a professional answer. I'm very happy.
Nora Nobuko
07:46 23 Dec 20
Sherrey Pridmore
01:52 20 Sep 19
Jose Ramirez
17:49 18 Sep 19
Fred Hinojos
16:23 18 Sep 19
Miguel was super helpful and understanding with my current situation and went Head and gave me an extension on my loan Defenetly recommend Montana capital if your in the Market to get a title loan!!!!
Mario Gonzalez
23:49 20 Mar 18
About This Location
Standard Auto Registration provides registration services for Montana Capital Car Title Loans customers. The store is located at 12947 Brookhurst Way A, near the intersection with Kerry St. If you live in Garden Grove and in need of registration services, stop by Standard Auto Registration that works with Montana Capital Car Title Loans in Garden Grove. Standard Auto Registration provides our clients with unmatched customer service. Montana Capital Car Title Loans does not issue loans at this location.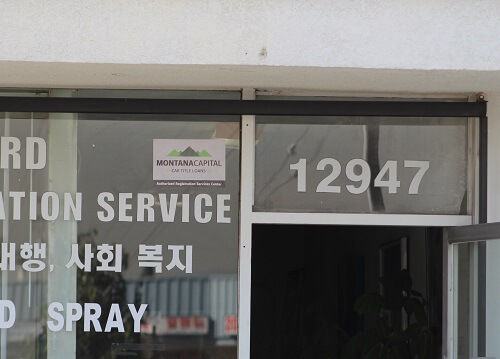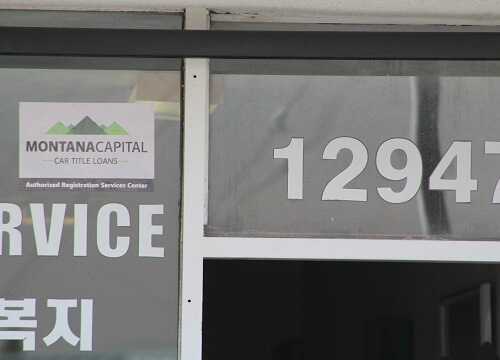 Garden Grove, California
Garden Grove, located in Orange County, is only 34 miles away from Los Angeles. However, its residents don't need to drive into LA for entertainment, as there is so much to do in Garden Grove! City citizens and tourists alike enjoy visiting Disneyland, which has been in operation as a theme park since 1955. It houses 8 different regions with themes, rides and shows. There is also Disney California Adventure, which is a more contemporary park that was built in 2001. Other Disney-related venues include Downtown Disney, Cars Land, Pirates of the Caribbean, Soarin, Indiana Jones Adventure, Jungle Cruise, World of Color and Space Mountain. That is only a partial list, but when ready to call it a day, you don't have to travel far to sleep at the Disneyland Hotel!
Needing Cash in Garden Grove
Disneyland is a huge draw to the city, but of course it all costs money. If you don't have enough money to take the family to one of the theme parks then you can't enjoy all the fun. And how can you, if you don't have enough money to cover your bills this month or to buy the necessary items you need? If you have a bad credit record then it can be really hard to find someone to loan you money. But all is not lost! If you own a car you can apply for a car title loan from Montana Capital Car Title Loans in Garden Grove.
Cars Equal Cash
Car owners in Garden Grove are in luck, because if the car has enough value you might be able to get a quick loan beginning at $2,600 from Montana Capital Car Title Loans in Garden Grove. When your application gets to our office, we will evaluate your vehicle. After checking its value and confirming that it is adequate, we'll determine your ability to repay the loan and that your situation fits into our credit specifications. Then we'll contact you to finish up the application process.
Drive Your Car
You can still drive your car even if we use its value as collateral for a car title loan. We will add Montana Capital Car Title Loans in Garden Grove to your car title but you can keep your car.  Send in your online application as soon as possible so  you can get money to get you going again!
Near Locations