Montana Capital Car Title Loans in Vista, CA 92083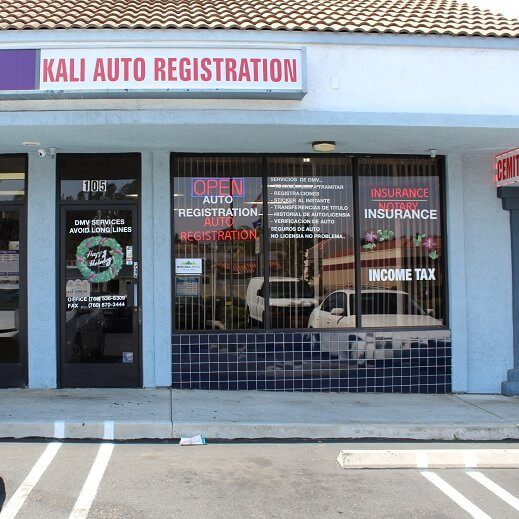 What Our Clients Say
I used their services so many times. Whenever I need car title loans with no credit check. Again I needed some credits with them and apply for the same. Still, the interest rates are the same. As always I was totally satisfied with the services. Thank you guys for providing me with the poor credit loan.
Judith K. Ryan
12:42 01 Jun 21
They provided great service and offered great value of title loan without registration. I will definitely be returning and referring to others!
Kaleb Sporer
09:10 29 May 21
Everything was clear, simple, and easy to understand the process of cash fast loans. I will definitely come back and refer others.
Kristen Parsons
13:02 28 May 21
I really wanted to do something special and take my wife abroad soon after marriage. Their loan offer came as a blessing and I got a loan on monthly installment loans for bad credit. It really like a wedding gift for me.
Tom S. Carey
13:49 25 May 21
Best company for title loans no competition... These guys know how to GET STUFF DONE!! No hassle, no fuss, no annoying questions... I am so happy I came across their website!!
Adams Augustus
23:49 10 Mar 21
Service was Quick, professional and Montana provided us with competitive terms for our loan. It was 100% an advantage for us to use Montana Capital and not the other guys around here.
Hanrry Murray
07:08 09 Feb 21
I can attest to the easy application process of Montana Capital Car Title Loans. I finished everything in an hour!
Luke Waddington
12:07 05 Mar 20
My son has had a tough time of it and was always kind of lost. When he told me about his idea to open a new business I knew he was finally ready to settle down. I wanted to help him but without money what could I do? To get him the money quickly, I applied for an auto title loan. He is ever so grateful and I'm glad I could help.
Kelli Jenkins
08:22 19 Feb 20
Easy process. Friendly staff.
Arna Archie
23:49 11 Mar 19
tittle loan: Ivan really nice and helping, Highly recomended.
Eva Garfias
05:25 22 Jan 19
TITLE LOAN: Kiara was amazing to work with and made everything flow quite smoothly. Was in and out in no time. Would definitely do business with them again!!
Brian Socha
21:05 24 Oct 17
About This Location
Kali Auto Registration provides registration services for Montana Capital Car Title Loans customers. The store is located at 1275 S Santa Fe Ave Suite 105, near the intersection with Service Pl. If you live in Vista and in need of registration services, stop by Kali Auto Registration that works with Montana Capital Car Title Loans in Vista. Kali Auto Registration provides our clients with unmatched customer service. Montana Capital Car Title Loans does not issue loans at this location.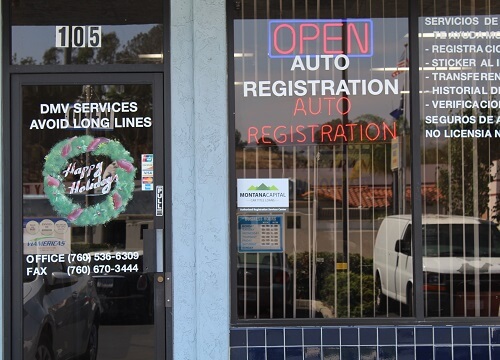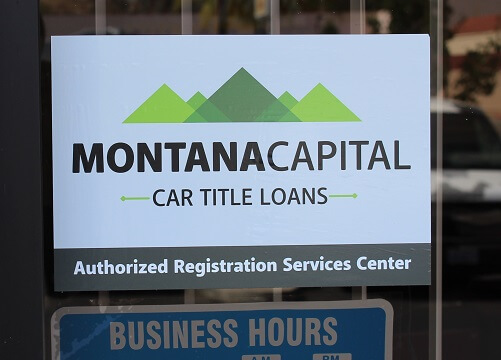 What You Should Know About Vista, California
Vista, CA is situated in Southern California. Its name derives from the beautiful views that can be seen from the area. The city's flower is the California Lilac, its bird is Anna's Hummingbird and its tree is the Kentia Palm. The residents enjoy a pleasant Mediterranean climate and the beach is only 7 miles away. This city of medium size has been home to several people who have become famous. Carrie Prejean was named Miss California of 2009 and Katherine "Scottie" MacGregor was an actress in Little House on the Prairie. The amazing skateboarder Danny Way is from Vista as well as Sara Watkins, of Nickel Creek Band.
Getting Along Financially in Vista
The Mediterranean climate in Vista is so nice, but one thing that can really ruin enjoying it is being without enough money. It can happen to anyone for many reasons, such as being between jobs, paying back school loans or a few nagging bills that you just can't seem to get rid of because of high interest rates. Don't think that you're alone! There are others in Vista who are struggling to keep up too, but if a quick cash loan could help pull you out of the situation, send in an online application to Montana Capital Car Title Loans in Vista and let us see how we can help.
Car Title Loans to the Rescue
At Montana Capital Car Title Loans in Vista, we are in the business of giving folks just like you a quick loan that can begin at $2,600. If you own a car, then we will evaluate it to determine if it is valuable enough to use as collateral. If it is, we'll still need to verify your ability to pay off a loan and that you meet our credit requirements. That's all it takes to get you back on your feet!
Getting Your Cash
If everything looks good and you are eligible for cash from Montana Capital Car Title Loans in Vista, we will request your car title so we can add our name to it. We'll leave it there until you've finished your car title loan contract and then we'll remove it. In the meantime, your car stays with you. And don't hesitate to contact us even if you have a bad credit rating. Meet our requirements and be approved!
Contact us today!
Nearest Locations