Title Loans in Idaho: Complete Process and How It Works
If you're in a bind and you need hard cash in a short amount of time - one fast AND safe solution is a car title loan.
A legal resident of Idaho can receive the money within one business day without even stepping out the door.
Sounds too good to be true? Don't worry - it's completely safe and legal!
We'll walk you through the complete process and tips on how you can start your title loan in Idaho today!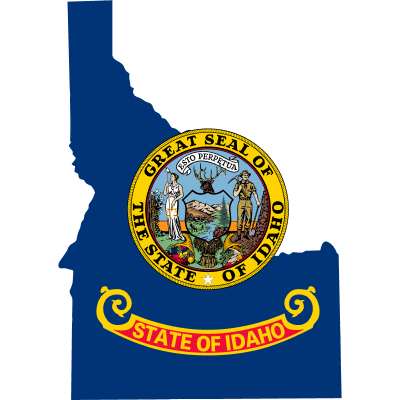 Idaho, known as "The Gem State," displays a soaring golden eagle on its state flag.
---
What Exactly Is a Car Title Loan?
A car title loan, otherwise known as an "auto title loan" or "vehicle title loan," works by temporarily surrendering the auto title to your chosen lending institution.
In this type of loan, your auto title works as COLLATERAL in exchange for the loaned money.
The good thing about car title loans is that you get to keep your auto while paying the lender back throughout the duration of the loan term.
Title loans in Idaho can go for APPROXIMATELY $100 to $50,000. Of course, there are multiple factors to consider, including:
Model
Condition
Type of auto you use to apply for the loan
The newer and better models would be entitled to HIGHER loan amounts and LESS stringent terms.
What Does This Mean?
Lenders in Idaho do not primarily base their approval on a borrower's credit score.
As your auto title is your MAIN COLLATERAL, their decision on a loan request DEPENDS on the documents presented.
What's more - the whole application process of title loans in Idaho is done ONLINE. From submitting your request to receiving your money without leaving your doorstep.
How Convenient! The only question left is - what is the process?
How to Apply for a Car Title Loan in Idaho
Some lending institutions in Idaho offer title loans. There may be multiple options, but the process is similar.
Below are the requirements you need to prepare if you're an Idaho resident considering title loans.
Step 1. Fill Up a Form Online
DON'T pick the first one you see. You might get duped or tricked by scammers (Yes, there's a lot of them lurking around Idaho).
Do a bit of research on the nearby lending institutions in Idaho.
Check the reviews of the lending institution AND if it is LEGALLY registered to operate in Idaho. It's your car on the line so make sure you did ample research on the company's credentials and customer service.
Once you've decided which lending company you want to go with, complete the form you'll find on their website.
It will normally take less than 10 minutes to complete if you have all the necessary data.
Got any questions while filling up the form?
You may opt to talk to a lending agent in Idaho over the phone if you need to clarify some things regarding the form.
Step 2. Submit Requirements
Once the lending agents receive your form, they will contact you to signal that you can move forward with your application.
They will ask you to submit the following documents:
Clean Vehicle Title you wish to submit as collateral
Pictures of your vehicle (exterior and interior)
Vehicle Identification Number and Odometer (mileage)
Social Security Card (or any government-issued document on which your name and SSN both are listed)
Government-issued photo ID (driver's license, passport)
Bank account statement
Three references not related to you
Car Insurance
*Some lenders in Idaho might have fewer or more requirements than the ones listed above. Be sure to confirm which requirements you need to submit.
Some Suggestions
Title loans refer to these documents as the PRIMARY BASIS for your application. These need to be complete and conclusive.
To increase the chances of APPROVAL, provide all the necessary papers and supporting documents.
These requirements will help the agents determine if your request is approved or if there will be succeeding actions, such as credit checks or reference checks.
After submitting all requirements, the next step is to WAIT.
Step 3. Read Repayment Plan and Terms
Normally, your lender will give a decision within one business day. In Idaho, some may even give their approval in just a few hours!
The hard part in title loans is OVER - but this step is CRUCIAL for ALL applicants.
Read and choose the repayment plan and conditions.
Make sure that everything is clear to you. Gauge if the terms are comfortable for you as well - otherwise, feel free to negotiate with your agent.
DON'T agree RIGHT AWAY!
Like MOST loans in various states, there will be steep penalties IN CASE you miss a payment. You might end up with a BIGGER debt if you cannot meet the terms stated in the contract.
Car title loans are notorious for having high lending rates, so be sure that you know HOW MUCH you have to pay back the lending institution.
Step 4. Choose a Method to Claim Your Cash
Once you've signed the contract, congratulations! All you have to do is to wait for your money.
There are several ways you can claim your cash from money from title loans in Idaho:
Cashier checks
Direct deposit to your bank account
Money Transfer (Western Union or Transfast)
Paypal
Wire transfers
Online banking
Hard cash
Choose the MOST CONVENIENT OPTION for you and notify your lender. THAT'S IT!!!
Frequently Asked Questions
Who Needs a Vehicle Title Loan?
Sometimes, lady luck is not on our side, and we find ourselves short of cash.
There are several reasons why a person needs fast money:
Emergency purposes (i.e., to cover medical expenses or to buy pharmacy prescriptions)
Funeral services of a relative or a loved one
Student loans
Overdue bills (utility or credit card bills)
Grocery or household needs
House or car repairs
HOWEVER, it doesn't matter what your reason is behind your loan application.
It won't be a factor in your NOR would you be required to disclose this during your application. All information will be kept CONFIDENTIAL and SECURE.
How Fast Can You Get a Title Loan in Idaho?
Idaho residents can receive the cash from a title loan within one business day!
You can make the entire application online. YOU DON'T HAVE TO VISIT ANY IDAHO BRANCH PHYSICALLY!
You only need to fire up your computer, go online, and submit your form to get started. Be warned that the penalties and rates are also quite steep but competitive for title loans.
Our advice? Go for the lending institution in Idaho with reasonable rates and excellent customer service!
Do I Need to Be Employed?
No, car title loans in Idaho are processed even if you are not currently employed.
TIP: Although it is NOT REQUIRED, to increase your chances of getting approved, it would be helpful to provide documents showing your source of cash flow.
If you are a freelancer in Idaho or receiving monthly pension benefits, you can attach these documents. Remember, your papers need to establish how you plan to pay off the title loan.
Should I Pay Off My Car Before Securing a Title Loan in Idaho?
In Idaho and other states, there are instances when title loans would require the vehicle to be paid off before they approve the auto title loan.
However, there are also cases wherein the borrower can get approval even if the vehicle is not completely paid off. Do note that the loan amount and terms would be AFFECTED.
Those who accept these applications oftentimes provide the option to carry your installment dues. This means they add the remaining balance of the vehicle to the total loan amount.
The good thing about this is you can pay off both the remaining amount of the financed vehicle and the title loan SIMULTANEOUSLY.
What Happens if I Can't Repay My Loan?
Needless to say, late payments for all loans would incur penalties.
When worse comes to worst, the lending institution can rightfully repossess and take your vehicle as the title acts as your collateral for the loan.
However - YOU HAVE THE FOLLOWING ALTERNATIVES:
Negotiate with Title Loan Companies
If you give them a notice and try to negotiate your terms, lenders in Idaho sometimes can offer a bit of flexibility in terms of loan repayment.
You might incur penalties, but it's better than losing your car.
Refinancing
If you feel like you've done what you can, but you STILL won't be able to meet the terms specified in the contract, you can keep your collateral by REFINANCING.
This means you pay off your current loan by applying for a new loan.
This way, you won't lose your car and be able to pay the amount due on your initial loan.
HOWEVER, if you do not have a stable income or cash flow, this should be your last resort as your interest and debt would pile up.
Pros
Safe and Quick Loans
Within one business day, you can receive the money you need. You WON'T have to wait in line or wait for weeks to find out you CAN'T apply for a loan.
You can skip sketchy lending individuals or groups who are not regulated nor allowed to operate in Idaho LEGALLY.
Convenient
Acquiring a title loan in Idaho does not require you to leave your home. Residents of Idaho have some options for the online processing of title loans.
Credit Standing IS NOT the Main Basis
Car title loans are mainly based on the value and model of the vehicle.
If you have a rocky financial history or low credit score, you are NOT DISQUALIFIED from applying.
When applying in banks for bigger loan amounts, this is usually the ULTIMATE CAUSE of disapproval.
However, in auto title loans, you won't have to worry about this IF your papers and documents are complete and up to date.
HOWEVER... It doesn't mean that title loans are automatically a swift and easy process.
Similar to all short-term loans, credit checks may still be done on a CASE TO CASES basis.
Some lenders and auditors in Idaho opt to do credit checks to make sure that everything is in order before granting title loans.
Cons
Car Repossession
The DRAWBACK of car title loans would be having your car taken away when the agreed terms are NOT fulfilled.
Interest Rates
Since bad credit can still apply and get a loan, interest rates in Idaho are relatively HIGH compared to other types of title loans, especially when payments become delayed.
Title Loans - Verdict
If you reside in Idaho and are weighing different types of loans, car title loans are a reliable and hassle-free option to get you the cash you need - FAST!
But don't forget about the guidelines and requirements to avoid potential mishaps.
Check your options today and share your experience below.