Car Title Loans in Minnesota: A Complete Guide
Fast cash seems to be impossible nowadays, especially with the current turnout of the economy and the costs of everyday living.
It's no wonder why you may fall short with cash. Nothing to be ashamed of!
So, if you're looking for a solution to pay off your dues, then you can get cash quickly by applying for a car title loan!
Based on car title loans statistics for 2021-2022, about 2 million individuals have used their car to avail of title loan services.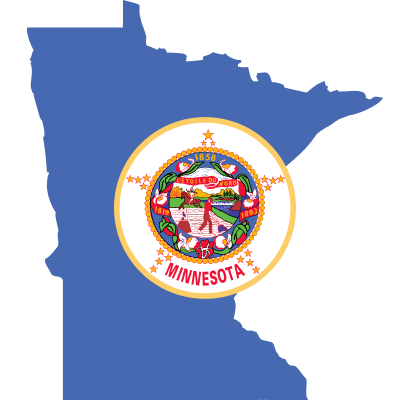 Minnesota, known as "The North Star State," features a blue field with the state's motto, "L'Étoile du Nord," which means "The Star of the North" in French, symbolizing its northern location and guiding principles.
---
What Is a Car Title Loan?
A car title loan, also known as an auto title loan, is a short-term loan between you and the lender in exchange for the title of your vehicle.
Title loans have high-interest rates, and you can get pre-approved with only a few requirements.
If you fail to follow the payment terms, most lenders will practice their right to take possession of your car.
How Do Car Title Loans in Minnesota Work
The procedure for title loans works the same in most states. You'll have to provide the details about your car on the online title loans website. The site will then give you a preliminary value.
The preliminary value is a guide on the amount you can borrow. Before you decide to work with a lender, ensure that you have done sufficient research about them.
The will help you avoid companies that would exploit you inhumanly. It will also help you find the best title loans in Minnesota.
Tips Before Applying for Car Title Loans in Minnesota
Before we get you started on the loan application, here are some tips you NEED to follow before getting into the various title loan services.
Because it's better to be prepared and ready for what you're getting yourself into!
1. Do a Background Check on the Auto Title Loan Company
Confirm if the company is a licensed business.
There are unlicensed lenders that offer auto title loans through the internet, but they do not comply with Minnesota consumer protection laws, especially limits on interest and finance charges.
2. Carefully Craft the Payment Plan
To avoid title loan interest rates, make sure you CAN repay the loan amount.
You have to guarantee yourself that you can pay this emergency funding because the loan amount that the company grants you is NOT the same as how much you can afford to pay it.
Pay close attention to the schedule and amount of required payments for the title loan, as well as the total interest rates and finance charges that can add up quickly over time.
3. Read the Loan Agreement Over and Over Again
Once you have read and signed the terms and conditions for a title loan in Minnesota, you are now legally responsible to oblige.
The lender will put you on a lien, so you are unable to sell it without first paying off the title loan and interest rates that apply to it.
To add, many lenders REQUIRE you to install a GPS device to track the vehicle's location so it can be quickly repossessed if you miss a payment.
How to Apply for Car Title Loans in Minnesota
Typically, the title loan process in Minnesota is simple.
You can follow these 3 steps to get you started and get instant approval:
Step 1: Fill Up an Online Application
The process of an online title loan is very quick and user-friendly.
You can use the License Lookup tool on the Commerce Department's website. This website contains business-owned lenders and a loan agent under oath to observe the Minnesota consumer protection laws.
Once you are sure of the website, you can apply online to get started on the pre-approval of your title loans.
Step 2: Submit Your Information
Go to your nearest title loans Minnesota department to submit the requirements.
Title loans work really fast, so you can get your cash once you have provided them with the basic documents. You and your lender can then begin discussing the loan terms.
After that, just wait for your pre-approval before you can claim the cash.
Step 3: Claim Your Cash
Once you get pre-approved for title loans, you can now receive your cash and get your funds paid quickly!
Unlike a traditional bank loan, you can receive your cash on the same business day. This definitely is the quickest and easiest way to get short-term financing!
You can receive the cash on hand or via direct deposit to your bank account.
Requirements for Title Loans in Minnesota
A title loan in Minnesota will require the following when you apply: (this also applies for an online title loan)
1. Photo ID
When you get a title loan, you need a government-issued identification or any ID that contains your personal information matching the name on the Minnesota car title.
2. Car Title
An original vehicle title showing sole ownership and the current vehicle registration. It has to be under YOUR name.
If you plan to apply for a title loan in Minnesota or another state for that matter, you can only do so if the vehicle is under your name.
3. Proof of Residency
Minnesota residents must show any proof of residency matching the name on the title. It can be a utility bill or any other type of proof.
4. Proof of Vehicle Insurance
When you apply for Minnesota title loans, you need to bring with you proof of your vehicle insurance.
5. Proof of Ability to Repay the Loan
By submitting the application for Minnesota title loans, you express written consent that certifies that you have the ability to repay the loan amount.
This also certifies that you are a US resident, at least 18 years of age, and authorize the business owned by this site, lenders, and their affiliates to contact you.
NOTE: If you decide to proceed with the pre-approval of the loan, you will pay the lender directly
Minnesota Title Loan Laws and Regulations
Applying for a title loan in Minnesota means that you are protected under the law.
Here are the following loan regulations:
What the lender can do in case of a defaulted payment;
Limit interest rates that may be charged;
If renewals and rollovers are allowed;
Limits on maximum and/or minimum Title loan amount;
Maximum and/or minimum terms of Title Loan repayment;
Any penalty fees, etc.
Title loans are available (with some restrictions) in Minnesota. The laws set minimum and maximum 30 day(s) loan terms, but there is NO LIMIT on the amount that a consumer may borrow.
So, title loans work for up to 30 days. The interest rate is capped to up to 30 days which is 25% per month that lenders can charge.
Title Loans Lenders Regulation in Minnesota
Make sure the lender you apply to is licensed to provide Title Loans in Minnesota. They are to pay a certain fee annually for licensing.
If you know that you borrow from a legitimate loan company, you may stay assured that your rights will be protected.
In a nutshell, these are the pointers to take note of:
Minnesota laws require lenders to be licensed, which means the state protects consumers against fraud. If something goes wrong, you can take legal action to stay safe.
Title loans in Minnesota are regulated by Minn. Stat. § 47.60 et seq.
Any false advertising and selling or charging for any kind of insurance are considered predatory actions, and lenders may be fined for them by law.
All these and more – limits on Minnesota amounts, rates, terms, etc. are stated in the laws, which you'd better study carefully before taking out this loan.
Alternative Cash Options Aside From an Auto Title Loan
Besides Minnesota title loans, there are other alternatives to get cash.
Even when you have bad credit, you can still find competitive rates to get the best deal in the market!
#1 Payday Loans
Payday loans work a lot like single-payment title loans, where your repayment is due in full plus interest and fees within a month.
The main difference is they don't require collateral. You can often get a payday loan on the same day if you apply in a store.
You can also apply for payday loans online, though you likely won't get your funds until the next day.
Pros
Same-day funding
No risk of losing your car
More online options than title loans
Cons
Higher APRs than title loans
Lower loan amounts than title loans more info button
Not legal in all states
#2 Credit Card Cash Advance
If you already have a credit card, you can also take out a cash advance as soon as you can get to an ATM.
Advances tend to come with higher APRs than your typical credit card purchase, though rates are often much lower than any other short-term loan product — starting at around 25%.
On top of this, you typically have to pay a cash advance fee, usually around $10 or 5% of the advanced amount.
You can't dodge this one with a bad credit score. If the bank sees that you have a bad credit score, you aren't going to get the cash advance.
Pros
Potentially faster than a title loan
No collateral required
Lower APRs
Cons
Need to already have a credit card
Cash advance fee in addition to interest
Lower amounts available than title loans
#3 A Loan from Family Members
Instead of borrowing from an outside company, you also might want to rely on friends or family for help when you're in a financial problem.
You might even want to draw up a loan contract with your lender if you're not comfortable accepting the funds as a gift.
Bad credit is definitely not a problem here, but you still need to make sure that you can pay them back.
Or you can try to monetize your social network by starting a crowdfunding campaign that you won't have to pay back.
Pros
Room to negotiate rates and terms
Borrow from someone you trust
Collateral optional
Cons
Risks ruining personal relationships
Must have family or friends able to lend funds
Title Loans Frequently Asked Questions
How Much Cash Can I Get From a Car Title Loan?
With the right lender, you can get the best deal!
Although, the final cash amount of the car title loan still depends on the following:
The lender you apply with.
Your ability to repay the loan from the lenders.
Any state laws limit the amount you can borrow.
The condition and value of your vehicle (e.g. vehicle year, mileage, etc).
You can opt for the minimum loan amount if you avail of this type of loan to lessen the chances of your car being taken away from you.
How Do I Pay Off the Title Loan?
You can pay the loan directly to the lenders.
And, yes, you can pay off the loan earlier if you'd like!
There are numerous payment options that you can choose from. This is to ensure that the process runs as smoothly as possible.
Once you pay off the unsettled balance, you can receive your car title in no time.
What if I Fail to Follow Through With the Monthly Payments?
Two things can happen if you fail to follow through with the monthly payments.
Firstly, your car can get repossessed, and secondly, your lender can adjust the terms accordingly.
Furthermore, if you are still unable to pay your dues according to the loan agreement, the lender has the right to repossess and sell your vehicle just like a bank would.
Will Lenders Do a Credit Check When I Apply for a Car Title Loan?
Not necessarily.
They don't usually do a credit check. They just need any sort of proof that you can pay back the amount that you owe them.
This is why most people opt for this compared to, for example, a credit union.
It's quick, easy, and doesn't need many requirements!
Does the Car Need to Be Fully Paid off When I Apply for Car Title Loans?
Again, not necessarily!
This is solely based on your ability to repay the amount. So whether you have a current loan on your car or it's paid in full, if you still have equity and the ability to repay, you may still qualify for a loan!
Can I Get 2 Auto Title Loans for Both My Cars?
YES.
You can have more than one loan if you are using more than one vehicle as collateral. It is possible for a family with multiple unique vehicles to get two different title loans.
Can I Apply for This Loan Again?
Definitely.
If you happen to need extra cash again in the future, you can apply for this once more!
This upside to this is you pretty much know the process of it and it'll be a breeze for you.
Bottom Line 
THE FACTS:
The average family size is 3, and the gross median monthly rent is $783.
The normal median income for a household in Minnesota today sits at around $63,445.
About 10% of the populace lives beneath the government destitution line.
No wonder why most people are in dire need of extra cash!
If you do have other options besides loaning your car title, then we suggest you take it.
The risk for this type of loan is very HIGH. You can actually end up losing your vehicle in this quick-term loan (imagine that!).
But at the end of the day, it's YOUR money and YOUR risk. We hope this guide gave you all the information you need to make an informed decision!