Financial Solutions in the Wilds of Alaska
In the beautiful wilderness of Alaska, you might face unexpected money problems. Whether it's a sudden expense or the need for quick cash, title loans could offer a potential solution to Alaskans facing these challenges.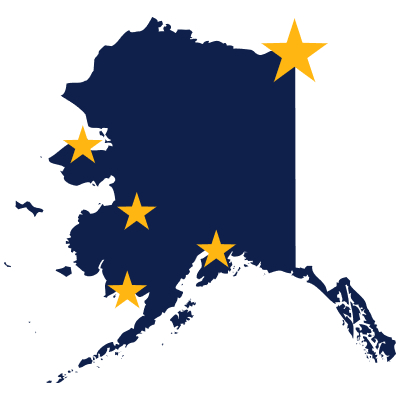 The Alaska flag, known as "The Last Frontier," features a blue background with the Big Dipper constellation and the North Star.
Key Takeaways:
Despite car title loans being illegal in Alaska, some out-of-state licensed lenders may still offer them to residents.
Title loans use your vehicle's title as collateral and typically offer 25% to 50% of your car's current market value.
Make sure you can afford the payments mentioned in the contract, or you might end up losing your car.
Car Title Loans offer a rapid cash solution even for those with low credit scores. However, it's crucial to be aware of the high interest rates and fees associated with these loans.
If you have poor credit, it's advisable to explore alternatives such as personal loans or payday loans, which might be more suitable for your financial situation.
---
Understanding Title Loans in Alaska
Title loans differ from traditional bank loans as they are secured using the borrower's vehicle. They offer access to funds typically ranging from $100 to $25,000, generally amounting to up to 50% of the vehicle's current market value.
This type of loan is available regardless of the borrower's bad credit score, making it a viable option for those who may not qualify for conventional bank loans
Moreover, if you sign your loan agreement before 2:00 pm your local lender's time on a business day, you may get your cash in as little as 5 hours, allowing for quick access to funds.
Is it Legal to Get Title Loans in Alaska?
Important Update: Alaskan residents can still explore title loan options. While Alaska, like some states, has its restrictions on car title loans, certain licensed lenders, such as those under FDIC jurisdiction, offer title loan programs in select areas.
With Montana Capital Car Title Loans, you can easily complete an online request form and receive pre-approval for a car title loan in a matter of minutes, all without any obligations.
What Are Title Loans?
Title loans, sometimes called car title loans or auto title loans, are a type of short-term loan. In this arrangement, you temporarily transfer your car's title to the lender to get fast cash. The amount you can borrow is based on your car's value and your income, rather than your credit history.
These loans are designed for urgent financial needs or emergencies, and you can still use your car while you have the loan.
Title Loan Regulations in Alaska
When considering an auto title loan in Alaska, it's crucial to navigate the regulatory landscape effectively.
The Alaska Title Loan Act (ATLA) serves as the guiding framework, offering essential protections for borrowers and ensuring that lenders adhere to fair lending practices.
Here Are The Key Regulations:
| | |
| --- | --- |
| Regulatory Framework | The Alaska Title Loan Act (ATLA) governs title loans in the state. |
| Licensing Requirement | Title loan companies are required to obtain a state license to operate legally, ensuring borrowers deal with legitimate lenders. |
| Interest Rates | Alaska imposes interest rate restrictions to prevent excessive charges. Lenders can charge either $15 for every $100 borrowed or 15% of the total amount borrowed, whichever is less. |
| Loan Repayment Terms | Alaska law mandates clear explanations of repayment terms, including the total amount to be repaid (principal plus interest) and the repayment period. |
| Consumer Protection | These regulations aim to protect consumers from unfavorable loan deals while providing access to needed funds. |
| Additional Resources | Detailed information can be found in the 33rd Legislature - Alaska Statutes 2022. |
Understanding these regulations is essential when considering an Alaska title loan, as they provide valuable protections and guidelines for both borrowers and lenders.
Applying for a Title Loan in Alaska
Before applying for a title loan in Alaska, you'll need to gather the necessary documents to support your application.
Vehicle Title
Personal Identification
Having these documents ready not only expedites your application but also enhances the likelihood of securing instant approval.
Get Online Title Loans - How Its Work
Montana Capital online request forms offer a convenient and efficient way to secure the funds you need, without the need for a physical vehicle inspection in some cases.
Requesting a car title loan online allows you to complete the application process from the comfort of your own home, providing you with a hassle-free and accessible solution to your financial needs.
Applying Online: Start by filling out an online form with your personal information and details about your vehicle, like it's make, model, year, and how many miles it has.
Sending Documents: Take pictures or a video of your car to show its condition. Then, send these images online through email. No need to wait in line – it's all done on the internet.
Assessment from Afar: The lender will look at your request from a distance. They'll check your car's value, how much you own of it, your credit history, and also verify your income.
Getting Approved Online: If your request meets the requirements, the lender will give you the green light. They'll let you know how much you can borrow based on your income and car's value.
Getting the Money: You can choose how you want to get the loan money. You can have it directly deposited into your bank account, or use MoneyGram at Walmart.
Finding a Reputable Lender
When searching for a reputable lender in Alaska, consider the following steps to ensure a secure borrowing experience:
Verify Licensing: Ensure the lender's licenses and legitimacy by checking their website or emailing them. If there is any doubt, contact the Division of Banking and Securities at Alaska's Department of Commerce for legal confirmation.
Compare Loan Terms: Evaluate loan terms and interest rates from different lenders to identify the most suitable Alaska car title loan option for your specific needs.
Research Thoroughly: Conduct thorough research to ensure the lender's reputation and credibility. This will allow you to confidently proceed with the vehicle title loan application process, knowing you've made an informed decision.
Title Loan Repayment
Repaying your title loan in Alaska is an essential aspect of the borrowing process.
Alaska typically ranges from 30 days to six months, with some lenders offering even longer repayment terms.
You can create a realistic budget to ensure that you can make consistent payments throughout the loan term and to avoid any potential penalties or fees.
Tips for Successful Repayment
To ensure successful repayment of your title loan, follow these steps:
Ensure timely payments to avoid vehicle repossession and protect your credit.
If you encounter financial difficulties, contact your lender before deducting a payment to prevent contract breaches and unnecessary payments.
Discuss potential adjustments to your payment schedule or explore refinancing options.
These steps will help you effectively manage your title loan in Alaska and navigate any financial challenges that arise.
Refinance a Car Title Loan
If you're finding it difficult to repay your car title loan in Alaska, consider refinancing as a solution.
Refinancing your title loan can offer you a longer repayment period or a reduced interest rate, making your monthly payments more manageable and easing your financial burden.
How To Refinance?
5 Steps to Refinancing Your Title Loan with Auto Money:
Step 1: Connect with a title lender that offers refinancing.
Step 2: Provide your existing loan details.
Step 3: Discover potential monthly savings.
Step 4: Submit all required documents.
Step 5: Begin enjoying reduced payments!
Northern Lights Viewing in Alaska
---
Alternatives to Title Loans in Alaska
While car title loans can serve as a quick cash solution, consider other loan options that may align better with your specific financial needs or credit standing.
Personal loans and payday loans are two popular alternatives to car title loans in Alaska, each offering their own unique benefits and drawbacks.
Personal Loans with Bad Credit
In Alaska, personal loans are different from auto title loans. They don't require collateral, like your car. However, if your credit isn't good, getting a personal loan can be tough. You might also face higher interest rates compared to title loans.
But, personal loans can be used for various purposes. You can use them to fix your home, consolidate credit card debt, or even buy an engagement ring.
Payday Loans with Bad Credit
Payday loans are a specific type of short-term loan that entails:
Quick cash loans for borrowers with bad credit until payday.
Typically have high-interest rates as 400% or more.
Due on the borrower's next payday.
Useful for immediate but not long-term financial needs.
As such, it's essential to carefully weigh the benefits and drawbacks of payday loans before deciding if this alternative is the right fit for your financial needs.
How to Secure a Title Loan Without Employment?
When applying for a title loan, various factors come into play to determine your eligibility. The lender's primary concern is ensuring that your monthly payments align with your financial capabilities.
Lack of regular employment doesn't necessarily hinder your chances of securing a title loan. If you can demonstrate your ability to repay the loan through alternative income sources, approval is still possible, even without a job.
The key is to find a monthly payment that you can handle without any problems. This is important because if you can't make your payments, it's bad for both you and the lender. It could even lead to repossession of your car.
When providing evidence of your income, certain documents are commonly accepted and understood, such as presenting:
Bank statements
Social Security Benefits
Inheritance documentation
Passive income proof
Severance pay records
Worker's compensation payment details
Annuity statements
Trust fund income records
Cash settlement documentation
Tax returns
Disability insurance proof
Court-ordered monetary awards
Lender Tip:
While Alaska car title loans offer a valuable solution, particularly for those without conventional employment, it's essential to recognize that they entail significant financial responsibility.
A Car Title Loan Example in Alaska:
Let's look at Sarah, who lives in Alaska and has a car worth $15,000 that she fully owns. She's faced with a $3,000 medical bill and decides to apply for an online car title loan.
Sarah not having a job is not a problem; she can show other ways she gets money. Her car is in good shape, so she can borrow $3,000.
Sarah fills out the loan application at 11 AM and gets the money on the same day. She chooses a 6-month loan term and pays it back a bit at a time every month.
During this time, she keeps driving her car with no issues. After she pays off the loan, she gets her car title back.
We Urge You To Make Wise Financial Choices 👍
Keep in mind that title loans are often sought by individuals with poor credit score, facing unexpected financial crises. It's crucial to consider car title loans as a final option, a short-term remedy in times of financial urgency.
Summary
As you navigate the world of Alaska car title loans, consider the information provided here to help you make the best decision for your financial needs.
Whether you choose a title loan, personal loan, or another alternative, understanding your options and weighing the benefits and drawbacks of each can empower you to take control of your financial future.
Montana Capital Car Title Loans in Alaska provide an online request form for those in need of quick cash, especially when other loan options may not be suitable.
Frequently Asked Questions
How Do I Receive The Money From a Title Loan in Alaska?
Upon approval of your title loan, you have the freedom to decide how you want to receive your loan funds. The traditional ways include opting for a direct deposit into your bank account, collecting it in person from a nearby branch, or utilizing the MoneyGram service at Walmart.
*Contact your lender to understand the options for receiving the money, as each lender may offer different methods.
What is The Lowest You Can Get for a Title Loan?
The lowest you can get for a title loan is typically $100.
This amount is usually 25%-50% of the car's value and the lender will require the title in exchange.
How Do I Transfer a Car Title in Alaska?
To transfer a car title in Alaska, follow these steps:
Complete an Application for Title & Registration (Form V1).
Remove any specialty or personalized license plates.
Take the signed title, affidavit(s), and application to an Alaska DMV office.
Provide odometer verification, a bill of sale, and your driver's license.
Pay a $15 title transfer fee.
You may also need to submit additional documents like a lien release if the vehicle has a lienholder or proof of insurance if it's being registered for the first time. The DMV office will issue you a new title and registration for the vehicle.
Are There Any Specific Regulations for Alaska Title Loans?
Yes, Alaska has specific regulations for car title loans to protect borrowers, including interest rate caps and loan terms.
These regulations are designed to ensure that borrowers are not taken advantage of and that they are able to pay back their loans in a reasonable amount of time. They also help to ensure that lenders are not affected.