HOW TO FILL OUT MONEYGRAM GREEN FORM
How much cash can i get
Find out now. It's fast, secure & free!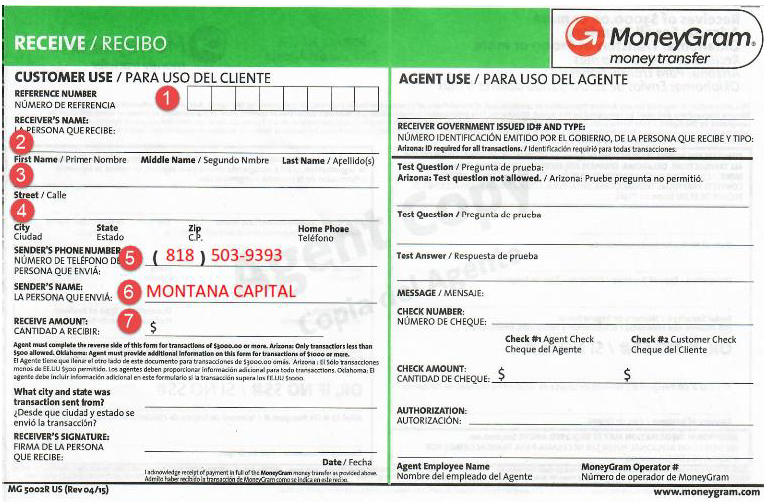 When filling out the MoneyGram Green Form, please follow these instructions carefully:
Reference Number: Enter the 8-digit Reference Number that you received from us. This unique number is provided to you for the transaction.
Full Name: Provide your full name exactly as it appears on the identification document you provided to us. This ensures proper identification and verification.
Street Address: Fill in your complete street address. Make sure to include all necessary details such as apartment number, suite number, or any other relevant information.
City, State, and Zip: Enter the name of your city, the state, and the corresponding zip code of your address. Double-check the accuracy of this information to avoid any errors.
Phone Number: Our phone number, 818-503-9393, should be provided on the form. This allows MoneyGram to contact us if necessary.
Recipient Name: Our name, "Montana Capital," should be entered as the recipient of the funds. This ensures that the funds are directed to us.
Loan Proceeds: Indicate the loan proceeds or the amount you are sending to us. This should match the agreed-upon loan amount.
By carefully following these instructions and accurately providing the required information on the MoneyGram Green Form, you can ensure a smooth and successful transfer of funds.
Contact Montana Capital Car Title Loans for more info.