Title Loan Companies – How to Choose the Best
How much cash can i get
Find out now. It's fast, secure & free!
Last update: November-24-2022
You need to choose the best title loan company, and there are so many different ones to choose from. How do you pick the best option out of all the available title loan companies?
It's important that you understand the terms and conditions offered by each title loan company. Some companies will penalize you for paying your loan off early. Some companies have repossession laws that may result in loss of your car due to non-payment for as little as one missed payment.
There are many different factors to consider when you are searching for title loan companies. Where you take your business will impact your financial future. Make sure you know all of the details and completely understand the terms and conditions behind your loan options.
Choosing the best title loan company is about finding the right payment plans, payoff options, and loan selections.
When you find yourself in need of cash fast, it can be tempting to go with the first title loan company you come across. Don't make an impulsive decision when it comes to your financial well-being.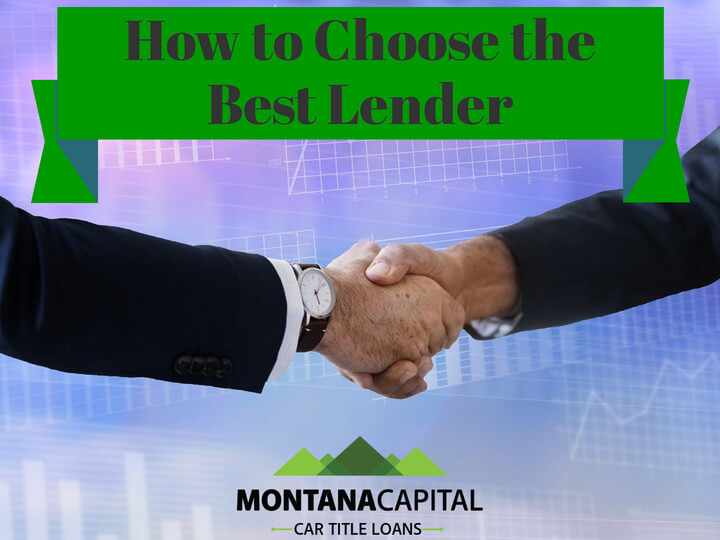 Title Loan Companies – Are They All the Same?
Title loan companies are not all the same. There are different terms, some have different requirements.
You may not qualify for a loan with one company and you might be able to access the funds you need with another. It all depends on the lender's requirements and your ability to repay the loan. If you're able to demonstrate your ability and your vehicle's value, you don't have to worry about being rejected by one company because you apply to another.
Check customer reviews for title loan companies you're considering applying to, find out how their past customers' experience has been.
When you're researching title loan companies, make a list of items that are important to you, like competitive interest rates, no fees for late payments, or no prepayment fees.
Knowing exactly what's important to you when it comes to taking out a loan will help you choose the best company to serve your needs.
5 Things to Remember When Talking to Title Loan Companies
Do Your Research
Make sure you look into all of your loan options and requirements. Before you start filling out an application with an online title loan company, make sure they are the right fit for you.
Review their terms and conditions and then find a few other title loan companies and compare your findings. You may decide to work with a different title loan lender based on factors like interest rates, late payment fees, or the amount they'll let you borrow.
Understanding your priorities when it comes to taking out a loan will help you make the right decision regarding which title loan company is the best one for you.
Negotiate Your Interest Rate
You are under no obligation to accept the advertised interest rates. You may be able to negotiate a better rate which is ideal when you're borrowing money.
A lower interest rate means your monthly payments will likely be lower and you'll be paying back less over time. Sometimes you can negotiate an interest rate directly with the company after they've offered your loan terms. Other times, you may want to try and leverage the other title loan companies that are offering loan terms.
Read the Fine Print
Knowing every detail of your contract is important. It's tiresome and tedious to review the entire contract, including the fine print, but doing so ensures you are aware of all of the terms.
The fine print can include information about penalties, repossession, repaying, and more. You don't want to miss important information by neglecting to read the fine print. It takes a little bit of time, but it will protect you in the long run.
Evaluate Your Finances
When you take a loan out, it is intended for a short period of time. You will need to repay your loan according to the contract terms in order to keep your vehicle and avoid further collection activity or a bad mark on your credit report.
Before you accept the terms of a loan and accept the funds, make sure you are able to repay the loan. Review your finances and if you're unable to afford the monthly payments, a loan may not be the right option for you.
Review the Repossession Terms
Don't get stuck without your vehicle. Some terms include repossession after one missed payment. Some contracts do not allow buying back your vehicle after the repossession.
If you are unaware of the repossession terms, you may find yourself in a difficult situation without a car. Find a title loan company with a repossession policy that you are comfortable with.
How to Find the Best Place to Get a Title Loan
When you're doing your research, there are some things to keep in mind about the title loan company you want to work with:
Are the Interest Rates Negotiable? If their interest rates are not negotiable, you should look to find a company with a little more flexibility so you can save more money.
Do you Get to Keep Your Car? Taking out a car title loan should not involve surrendering your vehicle. You should be able to keep your car while you pay back the loan.
What are the Repayment Terms? Knowing repayment terms will help you make the best decision about interest rates, or repossession, or early repayment penalties.
The place to get the best auto title loan will offer you many options to obtain a loan and pay it back in a reasonable manner.
How to Find the Best Place to Get a Title Loan
At Montana Car Title Loans, we want to help you get ahead. We're here to help you get cash fast. You can easily apply online, in person, or over the phone.
Montana Car Title Loans cares about its customers. We make sure to offer you the best possible options and best possible terms so we can help make a difference in your life.
Apply Online Now
Apply Online today! Fast, easy application and great service!