LA is brimming with thrift-shopping venues for every taste, style, and budget–take a look at some of the best
What's more fun than finding the perfect outfit or a long sought-after furnishing for your home? Finding it at a bargain! For many, the thrill is in the hunt—looking through racks of vintage clothing, strolling around a flea market in search of the perfect chair or table to upcycle or finding a treasure at a dollar sale. Luckily, LA is brimming with thrift-shopping venues for every taste, style, and budget. Let's take a look at some of the best.
When a Hollywood director calls out, "It's a wrap!" the show may be over but the fun is just beginning. With clothing and props from Hollywood studios arriving daily, there's always something to see. The clothing or accessories may have been worn for a few hours, or not at all (you'll find plenty here with price tags still attached). Find treasures at 35% to 95% off retail prices, in two locations.
Helping Hand has been around for 20 years, and is frequently featured in "best thrift shop" lists. Find clothing, furniture and a huge assortment of books. The store is chock full of treasures; you may have to do a bit of digging to find just what you're looking for—or that special something you didn't even realize would make you so happy until you lay eyes on it.
Founded by Berda Morley, this shop supports the Hollywood Sunset Free Clinic. Berda Paradise is known for its $1 rack, featuring something new (vintage, but new to the store) every day. You'll also find jewelry, housewares and lots of intriguing knickknacks.
Are you looking for a genuine designer bag, suit or shoes at a remarkably low price? You'll have a good chance of finding it in one of Wastelands' ultra-hip shops—in San Francisco, Los Angeles, Santa Monica, and Studio City. The founders created Wasteland to provide a one-of-a-kind shopping experience that will help the shopper create a one-of-a-kind look. Wasteland's praises have been sung by Vogue and Rolling Stone.
Save this shop for Sunday, so that you can enjoy what's become a tradition among stylists in Los Angeles: Jet Rag's $1 "yard sale," every Sunday from 10-6.  This shop has won a lot of accolades, including Reader's Choice: Best Vintage Store, Best $10 Wardrobe, and Best Vintage Store for Bargain Hunters. If you're going to the $1 sale, get there early, and fully caffeinated.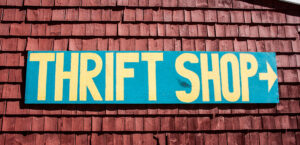 On the second Sunday of each month, you can spend a day at the Rose Bowl Flea Market. There is an admission fee ($8 to $15, depending on the time you enter), but think of that as a "cover charge" to one of the greatest shows on Earth. You will find just about anything your heart desires. Be sure to arrive early (is 5:00 am too soon to start treasure-hunting?), wear great shoes, and remember to barter! Here are some insider tips on making the most of this flea market, from the Los Angeles Times.
*   *   *
There are so many great finds in LA's thrift-shopping scene that you can always be stylish, without breaking the bank.
Montana Capital Car Title Loans is offering title loans in Los Angeles