Seven days a week, enjoy fresh food, great prices, and some LA-style people watching
What was once a modest venue for selling farm-fresh produce has turned into a favorite pastime in cities and towns across the country: shopping at farmers' markets. These days, what's for sale at farmers' markets is not limited to fruits and vegetables. You can typically find homemade preserves, cold-pressed juice, baked goods and, sometimes, handmade soap and jewelry, too. And in LA, you just might see a movie star, shopping for fresh food at a great price—just like the rest of us.
Did you know that the original farmers' market is right here in LA? In 1934, three businessmen had an idea: create a place where farmers could sell their goods. In July of that year, a dozen farmers gathered at the corner of 3rd and Fairfax and sold fresh produce from their pickup trucks. Within just a few months, the idea took off and over the next few years, Hollywood fell in love with the market. Shirley Temple, Frank Sinatra, Marilyn Monroe… they were all a part of this growing phenomenon. Today, the original farmers market is still thriving—it's open seven days a week and features more than a 100 specialty shops.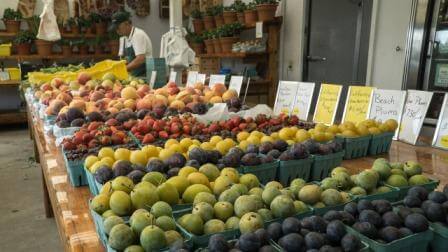 Of course, it's not the only game in town. You can find a farmers' market in every part of the city, on every day of the week. The Los Angeles Times has put together a guide—with an interactive map—to get you started. EyeSpyLA posts a calendar of farmers' markets and other outdoor markets in Los Angeles.
Here are a few to be sure to check out:
Grand Central Market
This is oldest and largest open-air market in Los Angeles, providing a meeting place for vendors and buyers since 1917.
Hollywood Farmers' Market
Open Sunday mornings, this open-air market features street musicians, free workshops and family festivals—and of course, lots of fresh produce.
Beverly Hills Farmers' Market
When you think of Beverly Hills, fresh pickles may not be the first thing that comes to mind. But the PickleFest is just one of many special events that take place at this weekly outdoor market.
West LA Farmers Market
Calling itself the "neighborhood friendly" market, this weekly market features not only fresh—and some organic—produce but also live entertainment, flowers and plants, and kids' activities, like the green-powered train.
The Downtown Manhattan Beach Farmers Market
Spend your Tuesday mornings sampling organic produce, drinking fair-trade fresh-roasted coffee, and choosing your favorite treat from the bread bar. Just blocks from the beach, this market has a charming "small town" feel.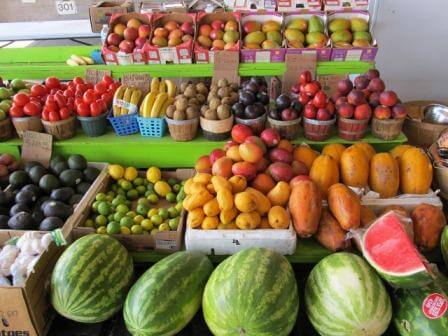 What to bring. When you're shopping at a farmers' market—especially an open-air market—you'll want to prepare by bringing along a few things:
Tote bags for the food you buy (many vendors won't have bags on hand).
A cart if you plan to stock up, and lots of $1 bills so you can pay quickly and move along to the next vendor.
You might also want to bring bottled water and a pack of hand wipes—the fruit samples are juicy, messy, and delicious, so you won't want to miss them!
What to wear. It's LA, so of course, you want to look good. Wear a hat to keep the sun off your face, and add some dark glasses for a movie-star look. You don't have to spend a lot of money—even in LA—to look great if you know where to shop for clothes.
As far as where to shop for fresh foods, Los Angeles has a lot to offer, at scores of farmers' markets throughout the city.